Chariots Away in New 'Ben-Hur' Trailer and Featurette
Brother battles brother in an epic chariot race in the new "Ben-Hur" trailer and accompanying featurette.
Paramount released a second trailer for the remake of the 1959 classic, based on a Bible-inspired novel. It's filled with more details about the characters and their relationships. Judah Ben-Hur (Jack Huston) is a wealthy prince from a prominent family in Jerusalem, but he's betrayed by his adopted brother Messala (Toby Kebbell) and falsely accused of treason. Judah is sentenced to rowing in a ship gallery, but escapes to challenge Messala in a chariot race of life and death.

The trailer features glimpses at some major action sequences and set pieces, including a huge naval battle. But of course, the big scene is the chariot race, and this featurette delves behind the scenes. The filmmakers wanted to keep the race as real as possible, so there's quite a lot of live-action stuntwork.

"Ben-Hur" also stars Morgan Freeman, Nazanin Boniadi, and Rodrigo Santoro, and opens August 19.
Want more stuff like this? Like us on Facebook.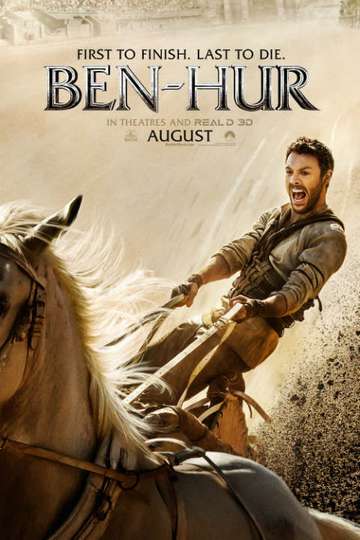 "First to finish. Last to die."
Showtimes & Tickets
A falsely accused nobleman survives years of slavery to take vengeance on his best friend who betrayed him. Read the Plot