25 Things You Never Knew About the Original 'Ben-Hur'
The new "Ben-Hur" (opening August 19) has mighty big sandals to fill. After all, the beloved 1959 version starring Charlton Heston as the title character was one of the most lavish epics in movie history. Not only was the 3-hour, 32-minute film the most expensive movie made up to that time, but it also won a record 11 Academy Awards. Plus, it contained that 11-minute chariot race, perhaps the most celebrated action sequence of all time.
Before you see the new version, here are the behind-the-scenes details of this epic classic.
1. MGM first announced it was planning a remake of the 1925 silent classic "Ben-Hur" (based, in turn, on Lew Wallace's best-selling 1880 novel) in late 1952. Over the next few years, the studio continued to float possible versions of the project, with such leading men as Stewart Granger, Robert Taylor, and Marlon Brando supposedly attached to star. But development didn't kick into gear until 1956, when Paramount's "The Ten Commandments" proved the profitability of a massive Biblical epic.
2. Pre-production began at Rome's fabled Cinecittà Studios in October 1957. The cameras finally began rolling in May 1958. The shoot took nine months, with another six months of post-production. The movie finally premiered on November 18, 1959, almost seven years after it was first announced.
3. At first, director William Wyler (pictured, far right) turned down "Ben-Hur" because he didn't think much of the script, but he ultimately decided that the story was interesting enough, and the Biblical epic genre offered him a chance to one-up "Ten Commandments" director Cecil B. DeMille. (Apparently, the two Hollywood titans hated each other.) Plus, MGM offered him the biggest payday a Hollywood director had ever earned up to that time: $350,000 plus 8 percent of the gross or 3 percent of the net profits, whichever was greater.
4. Despite Wyler's rivalry with DeMille, "Ten Commandments" leading man Charlton Heston was not on the director's short list to star as Judah Ben-Hur. But Burt Lancaster turned the part down because he found the script dull and disparaging toward Christianity. Paul Newman, still smarting over his inauspicious debut in 1954 Biblical epic "The Silver Chalice," claimed he didn't have the legs for the Roman costumes. The filmmakers considered Brando, Rock Hudson, Leslie Nielsen (known back then as a stolid leading man, not a slapstick comedian), Kirk Douglas, and even some Italian actors who didn't speak English before settling on Heston. To star in "Ben-Hur," the former Moses landed a fee of $250,000 for 30 weeks, plus a prorated wage if the shoot ran longer, and travel expenses for his family.
5. Actually, Wyler had been thinking of Heston to play the villain Messala. But when he moved into the lead, and Kirk Douglas and Stewart Granger turned down the role of Judah's Roman friend-turned-rival, it fell to Irish actor Stephen Boyd, then all-but-unknown in Hollywood. Since both stars had blue eyes, Wyler had Boyd wear brown contact lenses for the sake of contrast.
6. All told, there were 365 speaking parts in "Ben-Hur." Only four went to Hollywood actors: Heston, Martha Scott (who'd played his mother in "Ten Commandments" and did so again here), Cathy O'Donnell (Wyler's sister-in-law, cast as Judah's sister), and Sam Jaffe (as Ben-Hur family slave Simonides).
7. Out of reverence, the face of Jesus Christ is never shown on screen during "Ben-Hur," and the actor playing him is not credited in the film. It was opera singer Claude Heater, an American tenor the filmmakers had discovered during a concert in Rome.
8.Gore Vidal, one of several high-profile script doctors who revised Karl Tunberg's screenplay, claimed he'd inserted a homoerotic subtext into the friendship between Judah and Messala, and that Messala's motivation when he turns against Judah is that of a spurned lover. Vidal claimed he broached the idea to Wyler, who thought about it a while and then agreed but told Vidal not to mention it to Heston because "Chuck will fall apart."9. In his memoir, Heston disputed Vidal's claims and dismissed his contributions to the script. (Vidal's response to Heston's denial was, more or less, "He would, wouldn't he?") Scholars continue to argue over the claims, but watch Boyd and Heston's scenes together and decide for yourself.
10. The production design included 1 million props, 100,000 costumes, and 300 sets that were built out of 1 million pounds of plaster and 40,000 cubic feet of lumber. Throughout the shoot, the sets became a tourist attraction, drawing some 25,000 visitors, including such celebrity guests as Kirk Douglas, Harry Belafonte, Jack Palance, Susan Hayward, and Audrey Hepburn.
11. For the movie's centerpiece sequence, the chariot race, the producers built what was then the biggest movie set ever constructed. The arena, an accurate duplicate of an actual Roman stadium outside Jerusalem, was five stories tall and big enough to enclose a track 2000 feet long and 65 feet wide. There were actually two such tracks, one built outside of camera range for the horses and riders to train and rehearse. For the track surface, some 40,000 tons of white sand were imported from Mexico. The arena cost $1 million to build and spanned 18 acres on the Cinecittà lot.
12. Some 10,000 extras appeared in "Ben-Hur," including 1,500 on any day that the chariot sequence needed a crowd in the stadium grandstands. For the race, 78 horses were imported from Yugoslavia and Sicily.
13. Heston and Boyd spent weeks training to steer the four-horse chariot teams; in most of the shots, that's really the two stars at the reins. In the Roman summer heat, the horses could complete only about eight laps per day, and the sequence took five weeks to shoot over the course of three months.
14. Wyler left oversight of the chariot race sequence to second unit director Andrew Marton and legendary stuntman Yakima Canutt. (An assistant director on the sequence was future spaghetti-western maestro Sergio Leone.) Joe Canutt, the stunt coordinator's son, was Heston's double. During a notorious, heart-stopping moment, Joe was thrown forward out of the chariot, onto its lip. Yakima was certain that his son had been killed, but Joe managed to climb back into the chariot and retake the reins, suffering only a deep cut on his chin. The footage remains in the completed film. 15. Boyd wore a steel-lined costume for the close-ups of the scene where Messala gets dragged by the chariot, but the scenes where he and other riders get trampled were all filmed using realistic dummies. Claims that a stunt man was fatally run over, or that you can see that death on screen, are urban myths.
16. The 1925 "Ben-Hur" shoot had cost the lives of one stunt man and five horses. There were no serious injuries to people or animals on the 1959 film, but there was one casualty: executive producer Sam Zimbalist, who died in Rome of a heart attack during the shoot. He was 54.
17. During the shoot, Boyd married Italian-born studio executive Mariella Di Sarzana. But they separated after three weeks and divorced in early 1959.
18.Miklós Rózsa composed 110 minutes of music for the film, making it the longest movie score ever composed.
19. Initially budgeted at $7 million, the film's cost ballooned during the shoot to a record $15 million. That figure included about $1.1 million worth of 70mm film stock, an extra $100,000 for Wyler for assuming Zimbalist's producer duties after his death, $4 million for the chariot sequence (including $200,000 to replace two wide-screen lenses destroyed during chariot accidents), and $150,000 to dismantle the sets after the shoot ended so that other productions couldn't use them. Plus, MGM spent almost $15 million more to market the film.
20. The filmmakers felt the usual roaring-lion opening that preceded all MGM movies didn't fit the reverent tone of the nativity scene that begins "Ben-Hur." Studio brass agreed and permitted Leo to roar silently for the first time.21. The epic proved an instant hit, grossing an incredible $147 million worldwide during its initial run. At the time, that made it the second-highest grossing film ever, behind only "Gone With the Wind." It was also more than profitable enough to rescue the troubled MGM from looming bankruptcy.
22. "Ben-Hur" generated another $20 million from merchandising, including books, toys, candy, perfume, neckties, jewelry, gowns, chariot-shaped tricycles, and "Ben-Her" and "Ben-His" bathroom towels. Apparently, the reverence that hid Jesus's face and hushed Leo's roar went only so far.
23. "Ben-Hur" won a record 11 Academy Awards, including Best Picture (making Zimbalist the only producer ever to win Oscar's top prize posthumously), Best Director (for Wyler), Best Actor (for Heston), Best Supporting Actor (for Hugh Griffith, who played Sheik Ilderim), Best Color Cinematography, and Best Musical Score.
24. It also won for Color Production Design, Color Costumes, Editing, Sound, and Special Effects. The only trophy "Ben-Hur" was nominated for that it didn't win was Best Adapted Screenplay, perhaps because of the bitter public battle among the film's many writers that ended with Karl Tunberg earning sole credit. No film has ever won more Oscars than "Ben-Hur," though "Titanic" and "The Lord of the Rings: The Return of the King" have tied it.
25. In 1972, Heston used leftover footage from the "Ben-Hur" sea battle sequence in his film version of Shakespeare's "Antony and Cleopatra."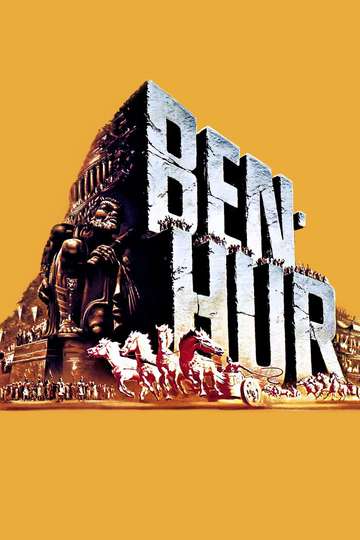 "The entertainment experience of a lifetime."
3 hr 42 min
Nov 18th, 1959
In 25 AD,Judah Ben-Hur, a Jew in ancient Judea, opposes the occupying Roman empire. Falsely accused by a Roman childhood friend-turned-overlord of trying to kill... Read the Plot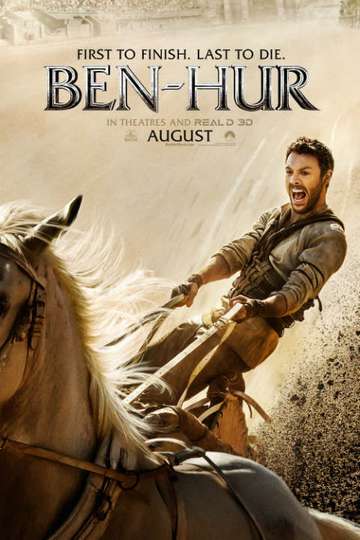 "First to finish. Last to die."
Showtimes & Tickets
A falsely accused nobleman survives years of slavery to take vengeance on his best friend who betrayed him. Read the Plot