Nick Offerman Goes Mustache to Mustache with Sam Elliott Again in 'The Hero'
Two of Hollywood's greatest masters of facial hair are together again, and Nick Offerman couldn't be happier.
The mightily mustached Offerman first got the opportunity to act opposite the even more famously hirsute screen icon Parks and Recreation," and as a result of their behind-the-scenes bonding Elliott invited Offerman to join him on the big screen in "The Hero."
In the film, Elliott gives a tour de force performance as an aging, too frequently pigeonholed actor reassessing his life in the wake of concerning health news who receives both support and a regular flow of marijuana from his longtime friend and former co-star Jeremy, played with laid-back relish by Offerman.
The role offers another intriguing and unexpected turn from Offerman, who since the end of "Parks and Rec" has, by his own admission, dodged offers to play Ron Swanson knockoffs and made a series of considered choices to expand the scope of his range, including his turn as fast food pioneer Richard McDonald in "Fargo."
And Offerman's got another left-field project in the pipeline: "The Handmade Project," an unscripted reality competition series focused on handcrafted artistry, reunited with his "Parks and Rec" co-star Amy Poehler to co-host and executive produce. And as he reveals to Moviefone, it's just one of the ways he stretching himself following his sitcom success after years of contentedly laboring in bit parts.
Moviefone: Tell me about what was fun about the first time that you played opposite Sam, and then doing it from a totally different direction this time.
Nick Offerman: It's been a fascinating trip, because Mike Schur, who created "Parks and Rec," our main writer, came to me and said, "So we've come up with this role who's kind of a doppelgänger for Ron Swanson." My mind starts racing. And he said, "And we want to try and get Sam Elliott." And I was so embarrassed, because I just felt immediately so unworthy. I was like, that's like if you said, "Your basketball doppelgänger is LeBron James," I'd be like, "I'm not sure if I quite deserve that."
But Sam agreed to do it. I really have always looked up to Sam. To anybody who ever wants to play anything in the realm of what he's done, he's the greatest. He's truly like a Mount Rushmore figure in our business. So I was pretty nervous the first day he was in the hair and makeup trailer, and I walked up into the trailer, and he immediately got up and gave me a hug. He started gushing at me that he was a fan of me. I was like, "Whoa, whoa, whoa -– please stop. Shut up! That's not how this works!" But to the point, he immediately established himself as an absolute sweetheart, and we just hit it off.
And it was funny because, despite his vast experience, he had never really done comedy. He never really worked on comedy and he was a fan of our show, and so he knew that not only was it well-written comedy, but there was also a very loose style. We have a great script, but then we play with it. We're just very loose. We can make up whatever we want.
Instead of giving him a sense of freedom, he was very anxious about -– because he's an old school film actor, where you don't screw up because that costs film. You're burning film. So when we first started working, if he would drop a line or something, he'd get really upset, and say, "Goddamn it, I'm so sorry, you guys." We'd say, "No, Sam, guess what: We're still rolling. It doesn't matter. This is totally kindergarten playtime."
Once he came around to that, then he really caught to it and became very comfortable. So we became very good friends.
I'd love to see the two of you in a Western together.
It's certainly been mentioned. Unfortunately, the timing is not great for Westerns in general, but it's certainly on my mind, and something I'm constantly strategizing. It's going to take some clever meta take on Western to say, "Okay, this is a worthwhile idea."
I feel like as an actor, you're in a very special kind of sweet spot where you're getting to do films like this, films like "The Founder," you get to pop in and do guest spots on TV, like the turn you did on "Fargo.". There's great variety in what you're able to do. What are you enjoying about this kind of phase of your career?
It's pretty crazy. When I was "Mr. Megan Mullally" -- nine, ten years ago -- and I was working steadily as an unremarkable character actor journeyman, I thought I had made it. I was amazed at my good fortune. Things had turned out even better than I could have dreamed.
Then "Parks and Rec" happened, and I said, "Oh, shit. This is crazy!" Megan and I both come from Chicago theater, and we don't have great aspirations to win an Oscar or do any specific goal, so much as we just love to get to work on great writing. So that's what I'm loving about the permission that I've been given, I guess by the audience, to sort of exist across the spectrum from something as absurd as "Childrens Hospital" -- which is, I think, the most wonderful, idiotic comedy I've gotten to work on -– all the way over to dramatic films like this or "The Founder."
I always feel like a freshman -– or maybe I've made it to sophomore year. When I watch my work in these things, I always see what my next study of improvement is going to be. It doesn't really matter what the genre or medium is. I don't have offers beating down my door. Studio movies generally steer clear of me, because I'm prone to take my trousers off. But I do get a lot of really good writing that comes my way.
"Fargo" for example, when "Parks and Rec" ended, I got some offers of TV shows that would have been lucrative and would have been pretty derivative. They're all characters inspired by Ron Swanson: football coaches and ex-Marines and what have you. I said, "Oh boy, if I was trying to get rich, then I would jump right into one of these shows, but I'm not. I'm trying to give good work. So I think I'm just going to avoid TV series for at least a few years, because nothing can ever compare to this experience I just had." Then Noah Hawley called.
I had seen the first season of "Fargo," and I said, "Boy, this guy does real nice work for actors, even small roles." I love creative people who make sure, even if you have one scene as a waitress, that you get a good piece of dialogue to chew on. So he called, and we had a meeting, and talked about the role on "Fargo." I said, "I have to say yes to this, because it sounds like it's really great writing." And it was.
The thing I'm enjoying is the autonomy that I'm being afforded. It makes my life very stress-free. I don't have to worry about staying cute. That's my favorite thing about it.
And you have "The Handmade Project," the competition show that you're doing with Amy Poehler, that you're both producing. Give me a tease on what we can expect from that.
I think it's going to be the comfort food of television shows. I love to encourage everyone to make something with their hands. For me, making things in my wood shop with my hands is such an amazing medicine that keeps me from consuming all that 24-hour news cycle... So we're making this TV show that's super-fun. It's very positive. It's not the kind of show where we slap people if they make a mistake. Instead, we get creative geniuses to show us what they do, that will then inspire us all to say, "Oh, maybe I should try and make some cowboy boots for my family," instead of order them off the internet.
I'm really looking forward to it. It's going to be something we haven't really seen in American primetime television. So I'm also fascinated to see how it goes. It's kind of a new frontier. Getting to be a smartass on a show with Amy is pretty much a no-brainer in my household!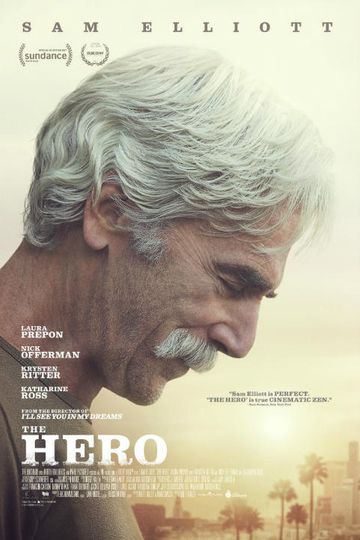 Lee, a former Western film icon, is living a comfortable existence lending his golden voice to advertisements and smoking weed. After receiving a lifetime achievement... Read the Plot