'Rogue One' Faces 'Expensive Reshoots' to Please Studio: Report
Well, this is a rebellion, isn't it? Why wouldn't you expect "Rogue One: A Star Wars Story" to rebel? Jyn Erso (Felicity Jones) warned us she goes against the grain in the first trailer for "Rogue One," but apparently Disney is not happy with the first cut of the standalone movie, which is set just before the events of "Star Wars: A New Hope," aka Episode IV, the original 1977 film.
Page Six just released an exclusive story titled "Disney execs in a panic over upcoming 'Star Wars' film," with a source saying "Rogue One" is in "crisis" and Disney wants reshoots because the first cut from director Gareth Edwards has fallen short of what J.J. Abrams did for "The Force Awakens."
The "movie insider" source told Page Six, "The execs at Disney are not happy with the movie, and 'Rogue One' will have to go back into four weeks of expensive reshoots in July." The source added, "Disney won't take a back seat, and is demanding changes, as the movie isn't testing well."
Reps for the director didn't respond to Page Six right away (it was Memorial Day weekend, so that could be why), but an unnamed Disney source weighed in, and he/she didn't deny the reshoots, they just noted that the reshoots were expected:
"The filmmaking team and the studio always anticipated additional shooting and second unit work to make the film the absolute best it can be, and the actors were aware there would be additional shooting. Coming off 'The Force Awakens,' there's an incredibly high bar for this movie and we have a responsibility to the franchise and to the fans to deliver the best possible movie we can."
Fair enough. Additional filming isn't unusual and doesn't mean, on its own, that a film is in "crisis." But now that Page Six's report is spreading, it's leading to headlines like Forbes's new piece, titled "What's At Stake For 'Star Wars' If 'Rogue One' Bombs."
Is everyone already heading for the lifeboats? Come on, now.
Hopefully the references to "The Force Awakens" don't mean the studio wants something to match the tone or style of Episode VII. This is meant to be a standalone, and it has "rogue" right in the title, so why not take a chance and let it be its own thing? Or is that too naive, since this is a major franchise and "own thing" is never the droid they're looking for?
"Rogue One" will be released December 16th, 2016.
Want more stuff like this? Like us on Facebook.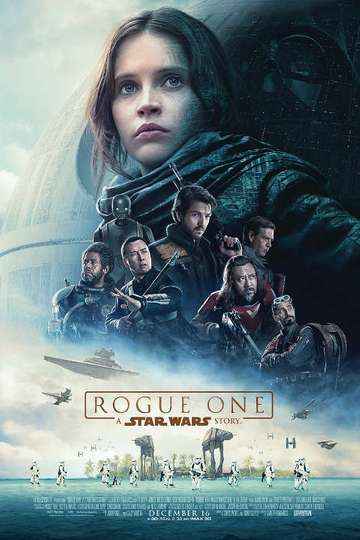 "A Rebellion Built on Hope"
2 hr 13 min
Dec 10th, 2016
Showtimes & Tickets
A rogue band of resistance fighters unite for a mission to steal the Death Star plans and bring a new hope to the galaxy. Read the Plot