Ricky Gervais Fakes the News in 'Special Correspondents' Trailer
Why report from dangerous front lines when you can kick back in a comfy studio in New York?
That's exactly what Ricky Gervais and Eric Bana do on their radio show in "Special Correspondents," an upcoming Netflix movie written and directed by Gervais.
Here, he plays a sound engineer for a news radio show hosted by Bana. They pretend to report live from strife-stricken Ecuador, but then things take a turn for the absurd when they are presumed missing in that country — all while being safe and sound in New York City. Vera Farmiga, America Ferrera, and Benjamin Bratt also star.
Say what you will about Gervais's awards hosting efforts, but his scripted work has yielded some funny results. "Special Correspondents" is the latest collaboration between Gervais and Netflix, after his series "Derek." The movie will be available to stream starting April 29.
Want more stuff like this? Like us on Facebook.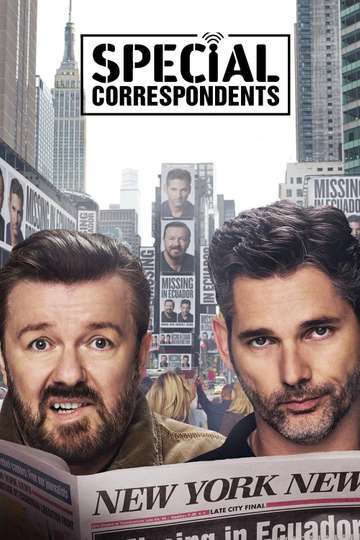 "Fake news. Real disaster."
1 hr 40 min
Apr 22nd, 2016
A radio journalist and his technician get in over their heads when they hatch a scheme to fake their own kidnapping during a rebel uprising in South America and... Read the Plot