7 Reasons Why 'Sully' Shattered Expectations at the Box Office
Talk about sticking the landing.
Going into this weekend, box office experts expected "Sully" and "When the Bough Breaks" to premiere with a combined $50 million and split it about evenly.
"Sully," after all, recalled Tom Hanks's other recent tale of real-life heroics, "Captain Phillips," which opened with $25.7 million. And Screen Gems' "Bough," starring Morris Chestnut, looked a lot like other African-American-lead thrillers released by Screen Gems that have done well in recent Septembers, including last year's "The Perfect Guy" (also starring Chestnut, and opening at $25.9 million). Analysts gave "Sully" a slight edge, due to name recognition for Hanks and director Clint Eastwood, but it was supposed to be a tight race.
As it turned out, the two new movies did split about $50 million. Yet "Sully" touched down easily with an estimated $35.5 million, while "Bough" earned just an estimated $15.0 million. So predictions of a photo finish were off by, oh, just $20 million.
Here's how "Sully" soared so high above expectations:
1. It Hit All the Theaters 3,525 theaters is the ninth-widest September release ever. Kudos to Warner Bros. for being able to book that many screens, especially with three other wide releases opening (including kiddie cartoon "The Wild Life" and horror film "The Disappointments Room").
2. Because Hanks Hanks isn't the box office draw he once was; this spring's "A Hologram for the King" barely made a blip on the box office radar (it made just $4.2 million over its entire run), and even last year's modest hit "Bridge of Spies" opened with just $15.4 million on its way to a total of $72.3 million. Nonetheless, in the right role, the 60-year-old is still magic.
Everyman heroes like Capt. Chesley "Sully" Sullenberger or Captain RIchard Phillips are his wheelhouse, and fans know it. Audience polling service PostTrak reported that a full 39 percent of "Sully" viewers chose to see it because of Hanks. No wonder that, aside from the "Toy Story" and Robert Langdon franchises, "Sully" marks the biggest opening of Tom Hanks's career.
3. The Eastwood Factor Thanks to his long and celebrated career in front of the camera, Eastwood is one of the few household names behind the camera as well. As a director, he has a reputation for quality and awards-season mojo, though his movies have been hit or miss at the box office in recent years. His last movie, however, was an unqualified hit; in fact, "American Sniper" was the biggest smash of Eastwood's career, on either side of the camera, earning $350.1 million in North America.
"Sully" plays on similar heroic themes, but with much less potential for political controversy. It also comes out nearly two years after "Sniper," so fans of the usually prolific director have had time to work up an appetite. And "Sully" marks his first-ever collaboration with Hanks, so anticipation was high. No surprise that, according to PostTrak, a healthy 20 percent of "Sully" viewers said Eastwood was the reason they bought tickets.
4. Age Appeal
Even if Eastwood and Hanks don't have reliable pull among younger viewers, they make up for it among mature audiences. Still, older viewers do pay more attention to reviews. Fortunately, "Sully" is doing well among critics, with an 83 percent "Fresh" rating at Rotten Tomatoes. Audiences agree, giving "Sully" an A CinemaScore. So it's no surprise that 80 percent of those who went to see the drama were over the age of 35.
5. IMAX While critics admire Eastwood's movies, it's usually more for their acting than their visuals. This time, though, the story of Capt. Sullenberger's daring water landing made for eye-grabbing spectacle. In fact, it's the first mainstream Hollywood feature to be shot entirely with IMAX cameras. As a result, the movie sold especially well at IMAX theaters, taking in $4 million on the giant screens and claiming the IMAX record for a September wide release.
6. Female Appeal Hanks remains one of the few leading men who is as admired as much by women as he is by men. Maybe even more so. It helps that the film's heroics are characterized by bravery and grace under pressure, but not machismo or gunplay. So Warner Bros. reports that the film drew an audience that was 56 percent female.
7. The Buzz Eastwood likes to slip into the Oscar race with as little fanfare as possible, often sneaking his movies into release at the last possible moment of eligibility in December, without critics and Oscar pundits pre-digesting them to death. The element of surprise has worked wonderfully for him with movies like "Million Dollar Baby" and "American Sniper," both at the ticket counter and at the awards podium.
Nonetheless, with "Sully," Eastwood and Warner Bros. let the film play at the early fall festivals and generate buzz the same way all the other fall Oscar hopefuls do, and then released it early in September. Maybe they did it because they had a $60 million budget to recoup and needed to make a big marketing splash, or maybe they recognized (especially from the example of "Hologram") that you can't keep a low profile with a Tom Hanks movie, or maybe they wanted to avoid the holiday season traffic pile-up.
In any case, the strategy worked at the box office. If the movie's Oscar buzz doesn't peak too early, it could work at awards time as well.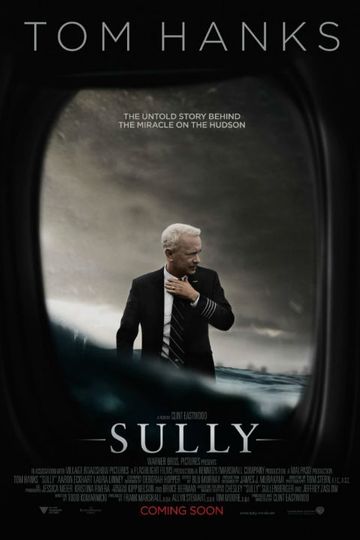 "The Untold Story Behind the Miracle on the Hudson."
On 15 January 2009, the world witnessed the 'Miracle on the Hudson' when Captain 'Sully' Sullenberger glided his disabled plane onto the Hudson River, saving the... Read the Plot