14 Things You Didn't Know About 'The Fisher King'
25 years ago, Terry Gilliam's wildly visual "The Fisher King" premiered on September 27, 1991.
The fantastical, New York-set film stars Jeff Bridges as a Howard Stern-like shock jock who inadvertently inspires a listener to go on a shooting spree. Robin Williams steals the movie, though, as a man who lost his wife in the shooting tragedy -- now reduced to a raving homeless man obsessed with finding the Holy Grail. Mercedes Ruehl won the Academy Award for Best Supporting Actress for her role as a kooky video store owner and Williams was nominated for Best Actor.
In honor of this exceptional film hitting the quarter century mark, here are some things you probably didn't know about the film. 1. It was the first film by Gilliam (left), who co-directed "Monty Python and the Holy Grail," that didn't feature any of his fellow Monty Python members.
2. James Cameron was reportedly considered to direct, but instead did "Terminator 2: Judgment Day." Years later, Gilliam would blast Cameron, saying that mega-million movies like "Avatar" make it harder for smaller filmmakers to succeed. 3. As Gilliam said in a 2011 American Masters interview, he was inspired to cast Jeff Bridges after seeing him in "The Fabulous Baker Boys," but Bridges spent most of his meeting with the director trying to get Gilliam to cast someone besides him. He even brought a list of his friends who should do the part instead.
4. When Bridges showed Gilliam a book of photographs by Joel-Peter Witkin with "missing limbs and heads that have been chopped open," he was convinced Bridges had the necessary darkness for the role. "It's the most disturbing, horrifying, beautiful, magical photographs I'd ever seen." the director recalled on American Masters. "Here's this sweet all-American lad in the depths of all this. I thought, 'Wow. You impress me.'" 5. Gilliam told American Masters in 2011 that he and Williams were the "hot air that flies off into the stratosphere" and that Bridges was "the guy who anchored the movie." Added Williams, "Even playing an out-there drunk, he's still the voice of sanity. Especially with me being the voice of insanity."
6. Robin Williams helped turn things around on a particularly tough evening. Recalled writer Richard LaGravenese: "I remember one night in particular, filming the Chinese restaurant scene. It was about five in the morning, and we'd been there since seven the night before. Everyone's energy was drained. Suddenly, Robin did twenty minutes of nonstop impersonations and comedy. I remember one of the grips turning to me with tears in his eyes, he was laughing so hard. Everyone was rejuvenated and juiced. Then Terry turned to me and said: 'Thank God for him.'" (Gilliam would share his own, slightly-different account of this to The Hollywood Reporter.) 7. Producer Lynda Obstrecalled another night when Williams came to the rescue: "We were shooting the scene where he waltzes in Grand Central Station through all the extras. Commuters would be arriving at 5 a.m. We were so late, we couldn't break for the extras to have water. The AD was so freaked out, he threw down his walkie talkie and quit. So as Robin's waltzing in this heavy costume, he's grabbing water on the sidelines and handing to all the extras when they were hot, tired, crowded, and ready to faint. We could never have wrapped that scene -- which might be the best one in the movie -- without his spirit."
8. One of the men who attacks Jeff Bridges at the beginning of the film is played by Dan Futterman, who went on to play Robin Williams' son in "The Birdcage." 9. In college, Mercedes Ruehl wrote a thesis about T.S. Eliot's poem "The Wasteland", which features the Fisher King, so she had had a good feeling when she saw the script for the "The Fisher King."
10. The night of the Oscars, Ruehl was trapped in traffic and nearly missed her own category, as she told Hoda Kotb and Kathie Lee in 2009. Since the show is live, she couldn't be seated until they went to commercial break. "Luckily," she said, "Jack Palance started doing those pushups and it gave me a few minutes to get my equipoise back."
11. Ruehl also revealed that she nearly fell when going up the stairs to accept her Best Supporting Actress Oscar, but someone from the audience came to her aid -- Warren Beatty! 12. You might have missed singer Tom Waits (above) as the beggar in the wheelchair at the train station.
13. Howard Stern reportedly asked to be a consultant on the film since they were basing Bridges's character on him. But since the studio wouldn't pay him, he refused to share tapes from his show with the production. 14. The day after Williams's death, Jeff Bridges was doing a press conference in New York for his film "The Giver." He opened by paying tribute to his late friend:
"I remember pulling up to the boathouse where we had our party and I look out I say, "Is that Robin? Is that his ghost? No, it's Radioman." [Radioman, a homeless movie fan, has appeared in dozens of films in New York.] "It brought back all of these wonderful feelings of what an amazing time we had shooting 'The Fisher King.' Bridges said that, when he hugged Radioman, "I felt Robin's spirit, as I'm feeling him now in this room with us."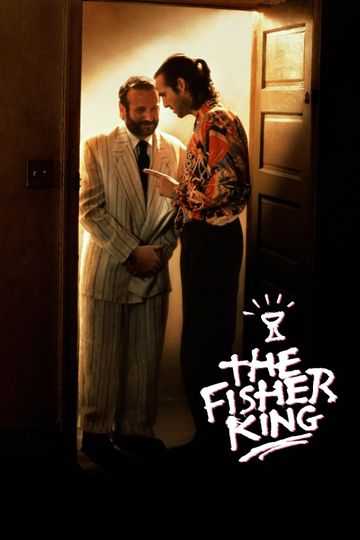 "A Modern Day Tale About The Search For Love, Sanity, Ethel Merman And The Holy Grail."
2 hr 18 min
Sep 20th, 1991
Two troubled men face their terrible destinies and events of their past as they join together on a mission to find the Holy Grail and thus to save themselves. Read the Plot