Tom Holland Shares In-Costume Selfie From 'Spider-Man: Homecoming' Set
Production is underway on "Spider-Man: Homecoming," the latest attempt to reboot the web-slinging Marvel superhero. As titular star Tom Holland prepares for his first standalone flick, the actor has shared an in-costume selfie from the set to celebrate the occasion.
Holland posted the snap to his Instagram account, with the actor clad in the character's signature red costume. And from the angle of the shot, it certainly looks like Spidey is about to spring into action from somewhere up high, his hand raised as if ready to start web-slinging his way across some tall buildings.

"1 Year until #spidermanhomecoming hits theaters, are you ready," Holland captioned the photo, which he shared on Thursday.
The production certainly seems prepared, shoring up casting in recent weeks and days with lots of intriguing additions to the ensemble. The seemingly ever-expanding cast currently includes Robert Downey Jr. (reprising his Iron Man role), Marisa Tomei (Aunt May), Michael Keaton (played rumored villain The Vulture), Zendaya (an unnamed female lead), Logan Marshall-Green (another rumored villain), Donald Glover (a yet-to-be-disclosed role that may or may not be Miles Morales, a.k.a. the comics' first mixed race Spider-Man), Martin Starr ("Silicon Valley," "Freaks and Geeks"), Hannibal Buress, Abraham Attah ("Beasts of No Nation"), Tony Revolori ("The Grand Budapest Hotel"), Angourie Rice ("The Nice Guys"), Kenneth Choi ("The People v. O.J. Simpson: American Crime Story"), Michael Barbieri, and Laura Harrier.
"Spider-Man: Homecoming" swings into theaters on July 7, 2017.
[via: Tom Holland]
Photo credit: Getty Images for Disney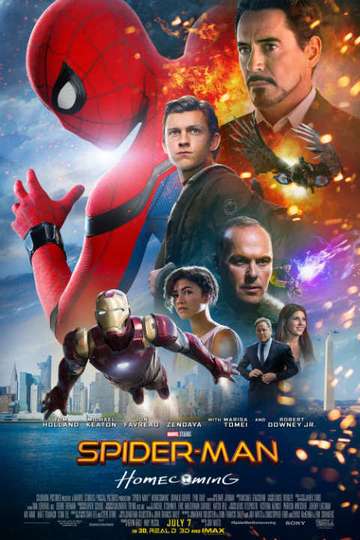 "Homework can wait. The city can't."
Showtimes & Tickets
Following the events of Captain America: Civil War, Peter Parker, with the help of his mentor Tony Stark, tries to balance his life as an ordinary high school student... Read the Plot