'Toy Story 4' Crosses $1 Billion, Pushes Disney to New Record
It's to a billion and beyond for "Toy Story 4," and that's huge news for Disney.
The latest installment in the beloved Disney-Pixar movie series has officially surpassed the $1 billion mark at the global box office, making Disney the first studio to have five films accomplish that feat in the same year, Variety reports. "Toy Story 4" follows in the footsteps of "Avengers: Endgame," "The Lion King," "Captain Marvel," and "Aladdin." The only other film to cross $1 billion so far this year is Sony's "Spider-Man: Far From Home," per Box Office Mojo data.
With its new record, Disney beats ... Disney. The studio previously had four billion-plus-grossing films in 2016, as Variety pointed out. Those films were "Captain America: Civil War," "Rogue One: A Star Wars Story," "Finding Dory," and "Zootopia."
It's not surprising to see "Toy Story 4" bring home the new record for Disney. The beloved franchise added "Toy Story 3" in 2010, and that was another box office juggernaut. It also grossed more than $1 billion worldwide and was the top film in North America that year, according to Box Office Mojo.
Disney has earned the right to celebrate, and the year still isn't even over. The studio has more movies coming -- "Maleficent: Mistress of Evil," "Frozen 2," and "Star Wars: The Rise of Skywalker" are all due out before the end of 2019.
[via: Variety]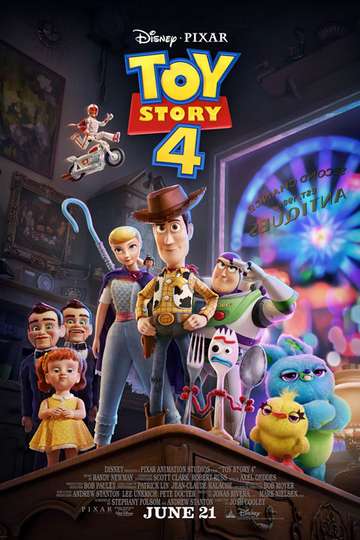 "Get Ready to Hit the Road"
1 hr 40 min
Jun 11th, 2019
Showtimes & Tickets
Woody has always been confident about his place in the world and that his priority is taking care of his kid, whether that's Andy or Bonnie. But when Bonnie adds... Read the Plot