'X3': 10 Things You (Probably) Didn't Know About the Infamous Threequel
When it was released 10 years ago (on May 26, 2006), "X-Men: The Last Stand" seemed like the end of an era -- the conclusion of the "X-Men" trilogy, the end of director Bryan Singer's involvement with the franchise, and the last time we'd see the original cast. Little did we know that it was only the beginning, that Singer, the X-Men, and even Patrick Stewart as Professor X would all be back with a vengeance.
While "X3" was a huge hit at the box office, it was divisive with fans -- it's the poster-child for why third installments of movie franchises are usually regarded as the worst entry. In honor of the infamous threequel's tenth anniversary, here are ten things you need to know about the summer blockbuster.
1. After directing the first two "X-Men" movies to critical and commercial success, Singer famously dropped out of the third movie to make "Superman Returns." He proved nearly impossible to replace.
Star Hugh Jackman (Wolverine) wanted to bring his "Fountain" director Darren Aronofsky aboard. Joss Whedon, who wrote the "Gifted" storyline in the comics that inspired the "X3" screenplay, turned down the job in order to develop "Wonder Woman" (a project that would take more than a decade to come to fruition, ultimately without Whedon's involvement). "Layer Cake" director Matthew Vaughn signed on, but two weeks before filming began, Vaughn quit, citing personal reasons. He eventually returned to the franchise as the director and co-writer of "X-Men: First Class." He also received story credit for "X-Men: Days of Future Past."
2. At the last minute, "Rush Hour" director Brett Ratner was hired, who, paradoxically, had earlier been Warner Bros.' choice for the "Superman" reboot project that ultimately went to Singer. Ratner knew he'd be the target of fanboy wrath but shrugged and said, "You can't make everybody happy."
3. One star who was thrilled Ratner was on board was Halle Berry (above), who'd threatened to quit the franchise if her character, Storm, wasn't given more to do. "I was begging, please, please. Not for more screen time, but if I was going to be in it for five minutes, then just let me have five good minutes, where Storm has a point of view or flies with the cape, not the plane." Ratner, she said, "felt the way I felt. He made rewrites happen and made things change."
4. Ratner also made a point of upgrading Storm's hairstyle. "I do like the hair," Berry said of her new Ratner-ordered 'do. "That's the first thing he said to me: 'The hair -- gotta go. I don't know how y'all did it before, but it's got to be better.'"
5. Like the other stars of the first two movies, Patrick Stewart wasn't contracted to do a third. But he signed on for "Last Stand" anyway, not knowing that his character, Charles Xavier, was going to be killed off.
6. An early draft of the screenplay included the villain Emma Frost, a role meant for Sigourney Weaver. The character finally made her franchise debut in "First Class," played by January Jones.
7. How much time passed between Jean Grey's death in "X2" and her resurrection in "X3?" Not even Famke Janssen, who played the out-of-control telepath, knew the answer. "A decent amount of time," she guessed. "Years, maybe."
8. Jackman said Ratner set the tone for a less cerebral, more goofy shoot. "Brett wants to have a good time, all the time," Jackman said. "It's a very fun set." In fact, he said, the silliness that emerged in the outtakes might prove embarrassing if they were ever released. "You will never see the gag reel," Jackman said. "It's one of the funniest gag reels I've ever seen. Kelsey [Grammer, who played Beast] figures prominently, as does Ian McKellen. There's some stuff in there that would pretty much ruin the franchise if it ever got out there."
9. One of the film's most noteworthy effects, considered groundbreaking at the time, was the digital facelift used to make Stewart's Professor X and Ian McKellen's Magneto look two decades younger in the flashback prologue.
The smoothing-out of lines and wrinkles, and darkening of gray hair and eyebrows, was done in consultation with an actual plastic surgeon, who made sure the resulting features didn't look too androgynous. Stewart said that, even with the digital trickery, playing younger was still an acting challenge. "We also needed, in the performance, to think about being 20 years younger, the way we sat, the way we moved," said Stewart, then 65. "I feel it now. Our bodies move differently. There's a fluidity which I don't have anymore, not to the same extent. So watching it made me smile a few times."
10. Costing $210 million, "The Last Stand" set a then-record as the most expensive movie ever made, though the record was broken a few weeks later with the release of the $225 million "Pirates of the Caribbean: Dead Man's Chest."
"X3's" debut scored $123 million, setting a Memorial Day weekend record, though another "Pirates" movie ("At World's End") would surpass it a year later with $140 million. Overall, "Last Stand" grossed $234 million in North America and a total of $459 million worldwide.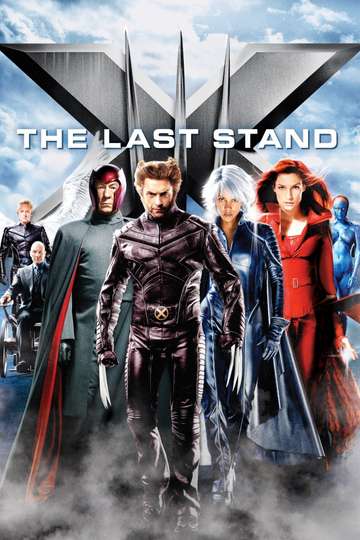 "Take a Stand"
1 hr 44 min
May 26th, 2006
When a cure is found to treat mutations, lines are drawn amongst the X-Men—led by Professor Charles Xavier—and the Brotherhood, a band of powerful mutants organised... Read the Plot