Hot cast? Check! Bass-heavy soundtrack? Check! Love triangle? Extra check!
"We Are Your Friends" has the perfect set-up for anyone in their mid-20s, but according to critics, the Max Joseph-directed film - starring Zac Efron as aspiring DJ Cole Carter, who falls for the girlfriend (Emily Ratajkowski) of the DJ who takes him under his wing - is only good on paper.
The film, given only a 25 percent rating by Rotten Tomatoes, is critiqued for going in too many directions and for giving an unrealistic view of what it takes to make it as a DJ. In fact, for EDM fans, reviewers advise checking out another recent film of the same nature instead.
"At long last, fans of Electronic Dance Music have a movie to call their own — a moving and authentic portrait of the artist as a young DJ, struggling to find himself in that tricky gray zone where personal and professional desires converge. But enough about Mia Hansen-Love's 'Eden.' For viewers who prefer their coming-of-age stories told in broad, believe-in-yourself brushstrokes, say hello to 'We Are Your Friends,' a brashly entertaining, none-too-persuasive tale of a talented 23-year-old musician from the San Fernando Valley trying to penetrate the glittering upper echelons of Hollywood nightlife." -- Justin Chang, Variety
"The predictability of the storyline — Cole discovers that his day job buying out foreclosed houses is immoral, Cole and Sophie fall for each other, James finds out about their relationship — would be forgivable if there were a single character here with any resonance. Only James really registers as a real person, and that's more out of Bentley putting in overtime than anything that he's given to say or do. (Ratajkowski somehow gets stuck with a part that's even more underwritten than the role of herself in this summer's misbegotten 'Entourage' movie.)" -- Alonso Duralde, The Wrap
"[Wes] Bentley's confidently snide and amused delivery ("You're not even a real person until you're 27") makes some of this material more palatable, but Efron's reserved demeanor and Ratajkowski's dreary flatness fail to pick up on the gauntlet he's thrown. By the time a third-act tragedy snaps Carter back to his roots and friends and their shared dreams, the story has lost too much of that emotional bond to recover. By not burrowing deep into the DJ'ing culture, in the manner of Mia Hansen-Love's 'Eden,' or going all-in on its story of striving outsiders, 'We Are Your Friends' is neither here nor there, like a song that can't decide whether it wants you to dance or be moved." -- Chris Barsanti, Film Journal
But at least one critic argues that while it may not be anything groundbreaking, the film deserves a thumbs-up for feel-good fun!
"We Are Your Friends is predictable, sometimes tacky, but the energy is unflagging, the eye candy plentiful and writer-director Max Joseph (making his feature debut after hosting MTV's Catfish) brings sincerity and a skillfully modulated sweetness to the material. Don't be shocked if the movie steamrolls past your defenses — unless you're an EDM aficionado, in which case you'll surely find reason to roll your eyes." -- Jon Frosch, The Hollywood Reporter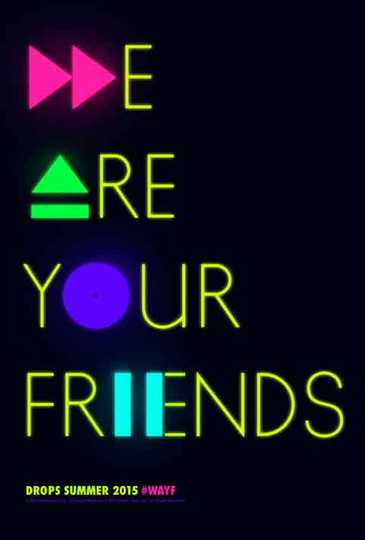 We Are Your Friends
"The world is yours."
1 hr 36 min
Aug 28th, 2015
Young Cole Carter dreams of hitting the big time as a Hollywood disc jockey, spending his days and nights hanging with buddies and working on the one track that...Read More