'Taxi Driver': 25 Things You (Probably) Didn't Know About Martin Scorsese's Classic
"You talkin' to me?"
It's the 40th anniversary of "Taxi Driver" (released on February 8, 1976), the movie that gave Robert De Niro his most famous line, put Martin Scorsese on the map, proved that the pre-teen Jodie Foster was an Oscar-worthy thespian, and (most notoriously) was cited by John Hinckley as an inspiration for his assassination attempt on President Ronald Reagan.
In honor of the film's anniversary, here are 25 things you need to know about how Travis Bickle came to be. 1. The script, by Paul Schrader (pictured, left), was semi-autobiographical. After a divorce and a break-up with a girlfriend, he wrote the movie while living in his car, feeling suicidal, obsessing about guns and pornography, and having spoken to no one for weeks. As he recalled in 2013, "Taxi Driver" was "an exorcism through art," and it worked.
2. Martin Scorsese saw the script as early as 1972, but didn't yet have the clout to make it, much less cast the then-unknown Robert De Niro in the lead. It would be another couple of years -- after Scorsese and De Niro earned critical acclaim for "Mean Streets," and De Niro won an Oscar for "The Godfather Part II" -- that Columbia finally made a deal with Scorsese and De Niro. 3. Before the studio signed De Niro, Jeff Bridges (above) was briefly up for the role of Bickle. "Taxi Driver" lore also has it that singer Neil Diamond, whose management was trying to get him into movies at the time, was also interested in the part.
4. When "Taxi Driver" was greenlit, De Niro was in Italy, filming Bernardo Bertolucci's "1900." He'd fly back from Italy to Manhattan and drive a cab on weekends to prepare for his role, then fly back to Italy for another week of filming there. 5. At the time, De Niro was still unknown enough to be anonymous as a cab driver. But one passenger, another actor, recognized him as the star who'd just won an Academy Award for his "Godfather" role and told De Niro he was sorry for him, since it was clear that even a recent Oscar-winning actor still had to support himself as a cabbie.
6. De Niro picked up Travis' Midwestern accent from American GIs he met at a military base in Italy. He taped their conversations and listened to them to develop Travis' voice. 7. Travis was even more racist in Schrader's original draft than in the finished film. Initially, all of his shooting victims were African-Americans. But the filmmakers decided to make them white, lest the movie spark racial rioting.
8. Scorsese wanted De Niro's "Mean Streets" co-star Harvey Keitel to play the role of campaign worker Tom, but Keitel wanted the smaller role of Sport, the pimp. Turns out Keitel knew a pimp in his own Hell's Kitchen neighborhood of Manhattan. Keitel took the man to the Actors Studio, and together, they beefed up Sport's scenes by improvising dialogue for the character. 9. For the role of Betsy, the campaign worker Travis tries to date, Scorsese initially sought a Cybill Shepherd-type actress -- until Shepherd's agent suggest his client (pictured, right) to the director.
10. Jodie Foster was only 12 years old when she was cast as Iris, the child prostitute. and the role was considered so risqué that she had to have a social worker on the set with her. She also had to spend several hours with a therapist to prove that she wouldn't be psychologically scarred by the role. She also had to have a stand-in perform some of Iris' more provocative actions. The stand-in was Foster's sister, Connie, eight years older but no taller. 11. One inspiration for Iris was a real-life teen prostitute whom Schrader interviewed. He had Foster meet her, but the actress recalled years later that the two girls had nothing to say to each other. Still, the teen got a walk-on part in the movie as Iris' friend, whom Travis nearly hits with his taxi.
12.Albert Brooks was primarily known as a stand-up comedian when Scorsese gave the future film director his first movie role as Tom, Betsy's wary colleague. Like many of the other actors, Brooks made up much of his own dialogue in improvisations during rehearsals. 13.Peter Boyle (left), as wise elder cabbie Wizard, developed his character's dialogue by taping conversations among real cabbies who were regulars at the Belmore Cafeteria, the late-night diner that's also where the taxi drivers hang out in the movie.
14. Leonard Harris, who played candidate Charles Palantine, wasn't an actor, but he was familiar to New York audiences as a drama and book critic on local TV. 15. Scorsese (above) gave himself a cameo as one of Travis' passengers, the one who threatens to kill his own wife. He took the part only because the actor he'd cast, George Memmoli, had suffered an accident on another film set and was suddenly unavailable.
16. Steven Prince, who played gun dealer Easy Andy, was such a character that Scorsese later made a documentary about him, 1978's "American Boy: A Profile of Steven Prince." In that film, Prince talks about his career as Neil Diamond's road manager and about his own history of heroin addiction. One of his stories -- about jabbing an overdosing woman in the heart with an adrenaline syringe -- was supposedly the inspiration for the famous similar incident in "Pulp Fiction." 17. The most famous bit of improvised dialogue in "Taxi Driver" is De Niro's "You talkin' to me?" monologue in front of his mirror. There are a number of stories about where De Niro found the iconic line. One story is that he was imitating an underground comedian from the New York club scene. Another is that the phrase was part of a common Actors Studio acting exercise. But the best story came from E Street Band saxophonist Clarence Clemons, who taught De Niro how to look like he was playing the sax in Scorsese's 1977 musical "New York, New York." Clemons claimed De Niro told him he got the line from Clemons' boss, Bruce Springsteen, who supposedly used it as part of his own stage patter at the time.
18. Travis' notorious Mohawk haircut came from his Vietnam veteran background. Schrader had learned from other vets that soldiers would sometimes shave their heads that way when they were about to go on commando missions, and that everyone knew it was wise to avoid Mohawked soldiers because they were psyching themselves up for the slaughter. De Niro couldn't actually shave his head that way because the film was shot out of sequence, so he had to wear a bald cap with a strip of hair on it, pasted over his crew cut. 19. The climactic shoot-out sequence was filmed over the course of three months inside a condemned New York apartment building. The famous overhead tracking shot at the end was accomplished by chainsawing a path in the floor of the apartment above, which made the crumbling building even more rickety and dangerous. Among those who helped Scorsese compose the sequence in the editing room was his pal, Steven Spielberg.
20. The sequence was so bloody that it almost earned the film an "X" rating just for violence. To earn the film an R-rating, the filmmakers desaturated the colors in the sequence, so that the blood wasn't so red. 21. For the film's epilogue, when Travis becomes a media hero, Schrader said he was inspired by the fate of Lynette "Squeaky" Fromme, who nearly assassinated President Gerald Ford and, as a result, landed on the cover of Newsweek. Little did he imagine that another would-be presidential assassin would one day cite "Taxi Driver" in turn as his inspiration. In fact, after Hinckley shot Reagan, Schrader said the FBI interrogated him, asking the filmmaker if he knew of any conspiracy that might link Hinckley and others who identified too much with Travis Bickle.
22. The unforgettable instrumental score to "Taxi Driver" was the final work in the celebrated career of composer Bernard Herrmann, who'd scored such landmark movies as "Citizen Kane" and "Psycho." He recorded the music in just two days and died hours after finishing the sessions. 23. "Taxi Driver" cost just $1.3 million to make. It earned back $28.3 million at the U.S. box office.
24. In the months after its release, "Taxi Driver" won the Palme D'Or, the top prize at the Cannes film festival. In 1977, it was nominated for four Academy Awards: Best Picture, Best Actor (for De Niro), Best Supporting Actress (for Foster), and Best Score. (No nominations for Scorsese or Schrader.) On Oscar night, the film was shut out.
25. There's been much speculation as to whether the film's finale, in which Travis is lionized and enjoys a brief reunion with Betsy, is to be interpreted as actual events or just the fantasy of the dying Travis. Scorsese and Schrader have said that Travis does live at the end, but that he's still as lonely and alienated as ever -- and is still a ticking time bomb. Said Schrader: "I think the syndrome is just going to start all over again."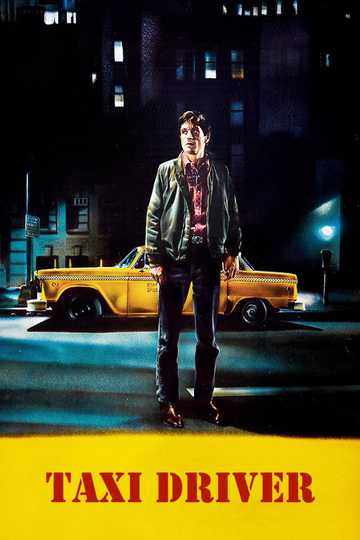 Taxi Driver
A mentally unstable Vietnam War veteran works as a night-time taxi driver in New York City where the perceived decadence and sleaze feed his urge for violent action, attempting to save a preadolescent... Read More