The Ten Best Thanksgiving Movies Of All Time
Moviefone counts down the ten greatest Thanksgiving Day themed movies of all-time from 'Pieces of April' to 'Planes, Trains and Automobiles.'
Everyone has a favorite Christmas movie, right? Whether it's 'A Christmas Story,' 'Elf' or even 'Die Hard,' Christmas movies play ad nauseam on television throughout the month of December. But where are all the Thanksgiving Day films?
Well, don't worry because Moviefone has you covered as we count down the top ten Thanksgiving Day themed movies of all time! Now, to qualify for this list the film must either take place at Thanksgiving or involve the holiday in some way, and we are only counting theatrical releases, so sorry 'A Charlie Brown Thanksgiving,'
Let's begin!
---
Written and directed by Peter Hedges, the film stars Katie Holmes as April Burns, a young woman estranged from her family who invites all of them, including her dying mother (Patricia Clarkson), to her apartment for Thanksgiving dinner. The smash hit of the 2003 Sundance Film Festival, the movie helped launch the film career of Katie Holmes and earned veteran actress Patricia Clarkson her first and only Academy Award nomination.
---
Released in 2018 and written, directed and starring comedian Ike Barinholtz, this dark comedy focuses on a Thanksgiving dinner between in-laws after the President of the United States asks all citizens to sign a loyalty oath. Released smack dab in the middle of the Trump administration, Barinholtz's script takes no prisoners and is brutally honest about the polarization of politics in this country. In addition to Barinholtz, the film also stars Tiffany Haddish, Carrie Brownstein, and John Cho.
---
Director Ang Lee's 1997 drama, 'The Ice Storm,' is the movie that first put him on the map as a major filmmaker in Hollywood. The film stars a fantastic cast that includes Kevin Kline, Joan Allen, and Sigourney Weaver, as well as rising stars (at the time) Tobey Maguire, Christina Ricci, Elijah Wood, and Katie Holmes. The film follows two neighboring upper-class yet dysfunctional families whose lives change forever after a Thanksgiving weekend party filled with infidelity between the parents, causing their kids to have uncertainty about their family's futures.
---
This film's inclusion is a bit tricky, as the movie does not actually take place at Thanksgiving, rather it is set in the summer. A sequel to the 1991 adaption of the classic TV series, the second installment features Wednesday (Christina Ricci) and Pugsley (Jimmy Workman) attending summer camp where they are forced to participate in a politically incorrect Thanksgiving Day play.
Wednesday is cast as Pocahontas, but in the middle of the performance begins to improvise and teaches her friends and camp counselors how the popular holiday really began with horrifying historical accuracy. The scene is a standout in the film and worth a YouTube watch before you eat your turkey this year.
---
While the movie takes place over several months, one of its most pivotal scenes takes place at Thanksgiving dinner. Released in 1993, the movie revolves around two childhood friends, John (Jack Lemmon) and Max (Walter Matthau), who have been bitter enemies for decades. Their rivalry is escalated when Ariel (Ann-Margret) moves into their small town and the two former friends begin competing for her affections, which culminates when their other friend, Chuck, (Ossie Davis) spends Thanksgiving with Ariel.
---
This 2011 comedy directed by Brent Ratner is about a group of apartment building employees who decide to rob the crooked businessman that stole their pensions, and the crime is scheduled for Thanksgiving during the Macy's Day Parade. The film stars an all-star cast that includes Ben Stiller, Eddie Murphy, Casey Affleck, Matthew Broderick, and Alan Alda. But the true star of the movie is the Macy's Day Parade, which is featured prominently in the third act and acts a time capsule for the famed holiday event.
---
Released in 2013 and mostly overlooked, 'Free Birds' is a clever and funny animated movie that is great for kids and features an extremely original concept. The film follows two turkeys, Reggie (Owen Wilson) and Jake (Woody Harrelson), who time travel back to the first Thanksgiving to change history and take turkeys off of the holiday menu for good. Directed by Jimmy Hayward ('Horton Hears a Who!)', the cast also includes voice performances from Amy Poehler, Dan Folger and 'Star Trek' legend George Takei.
---
Marking actress Jodi Foster's second film as a director, 1995's 'Home for the Holidays' is in some ways the essential Thanksgiving movie. The story centers on Claudia (Holly Hunter), who after losing her job and discovering her daughter has other plans for the holidays, she travels to her own dysfunctional family's home for Thanksgiving dinner.
In addition to Hunter, the cast also includes Robert Downey Jr., Anne Bancroft, Claire Danes, Charles Durning, Dylan McDermott, and Geraldine Chaplin. Not only is the movie a strong second directorial effort from Foster, but it also features an excellent supporting turn from a pre 'Iron Man' Robert Downey, Jr.
--- Martin Scorsese's groundbreaking documentary, 'The Last Waltz,' is not only a great Thanksgiving film, but it is also one of the best rock docs of all time. The movie documents the final concert of the iconic rock group The Band, which took place at The Winterland Ballroom in San Francisco on Thanksgiving night in 1976. The concert was memorable not just because it was the last time the original members of the group would ever play together live on stage, but also for featuring an incredible list of surprise guests including Dr. John, Muddy Waters, Eric Clapton, Neil Young, Joni Mitchell, Neil Diamond, Van Morrison, and Bob Dylan.
Scorsese cuts in between the concert footage with exclusive interviews, as well as a studio performance from The Band of 'The Weight,' which the director was unable to capture live on stage. The film ends with a truly remarkable, once-in-a-lifetime jam session performance of Dylan's 'I Shall Be Released,' with all the legendary musicians playing together.
---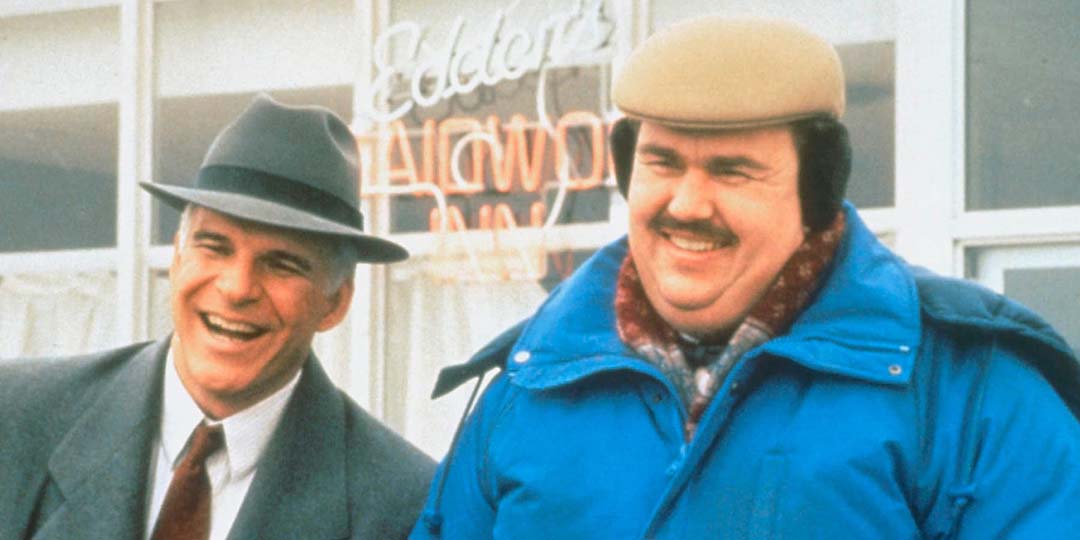 Without a doubt, writer and director John Hughes' 1987 comedy, 'Planes, Trains and Automobiles' is the most popular and best Thanksgiving movie of all-time! The film follows a simple premise, Neal Page (Steve Martin) is a high-strung executive who must travel with a stranger, the sweet but annoying Del Griffith (John Candy), in order to get home to his own family in Chicago in time for Thanksgiving.
Part 'Midnight Run' and part 'Home Alone,' Steve Martin is brilliant as the straight-man to Candy's ridiculous character, while Candy gives the best performance of his career creating a funny and sympathetic man. Not to mention that the film's twist regarding Del's family, and the way Candy performs the reveal, will leave you in tears.