 Maybe they should have called it "Trollbusters."
For all the sexist internet trolls that spent the last two years sliming the new female-fronted "Ghostbusters," the comedy reboot performed pretty much as expected at the box office -- but it remains to be seen whether or not it's $46 million opening is enough to spawn the franchise Sony wanted.
It opened behind only the unstoppable "Secret Life of Pets," which collared another estimated $50.6 million in its second week. As a result, "Ghostbusters" set some records: It's the top opening for a live-action comedy in 2016 and the biggest debut for director Paul Feig and star Melissa McCarthy. In fact, it's the biggest first weekend for a live comedy since the female-ensemble-driven "Pitch Perfect 2" last summer.
How did the movie overcome enough of the online vitriol to become a solid hit? Here are five ways:
1. The Backlash Backfired All it did was create extra awareness for the film and intrigue potential ticketbuyers. "It's the greatest thing that ever happened," Sony studio chief Tom Rothman told The Hollywood Reporter in June. "We're in the national debate, thank you. Can we please get some more haters to say stupid things?"
2. Defying (Ish) Expectations
Studios routinely lowball their estimates so that, when movies exceed them, they can call them a "triumph," which is what Sony called "Ghostbusters" on Sunday. Still, all that negative Internet buzz did precondition analysts to expect only modest sales. It was only in recent days, as reviews emerged and pre-sales soared at Fandango, that pundits realized "Ghostbusters" was actually going to do solid business.
3. More Than Nostalgia Put Butts In Seats Moviegoers who actually did pay to see "Ghostbusters" gave it a decent B+ grade at CinemaScore, but the grade rose to A- for viewers under 25. So, yes, people who weren't emotionally invested in "Ghostbusters" from having been old enough to see it in 1984 liked it even better than Gen Xers and other old-timers.
4. The Movie, More or Less, Delivered
Beside the positive word-of-mouth from paying customers, there were decent reviews from critics, judging by the 73 percent fresh rating at Rotten Tomatoes and the 60 score at Metacritic. That should have been enough to persuade those skeptical older viewers who still value criticism.
5. Melissa McCarthy She's about as reliable a box office draw as there is in comedy these days.
Of the seven wide-release movies she's starred in over the last five years, all of them have opened above $21 million -- and five have opened above $26 million. That Feig directed four of those hits makes him as much a sure thing as McCarthy. That's not to slight McCarthy's co-stars; Saturday Night Live"-bred funny to the table. But McCarthy has long since eclipsed "Bridesmaids" lead Wiig at the box office, while McKinnon and Jones are unproven draws.
Many observers saw this movie as the ultimate test case for whether a big-budget summer comedy with an all-female ensemble can succeed. As if "Bridesmaids" hadn't settled that question five years ago, or "Pitch Perfect," or "Pitch Perfect 2."
And yet, these movies come along seldom enough that, every time they do, amnesia hits Hollywood, and studios wonder whether there's an audience for a mainstream movie starring funny women. If they do fail, the stars' gender gets blamed, not the film's script or execution or marketing, and the actresses' careers suffer. The real test for "Ghostbusters" will come not with its opening weekend but over the next few weeks, as it faces off against newer blockbusters. As nice as $46 million is (plus another $19 million from overseas), "Ghostbusters" has a steep hill to climb to break even; it cost a reported $144 million to shoot and another $100 million to market. Which means it'll have to make nearly $500 million worldwide (before revenue-sharing with theater owners) to make a profit.
That's going to be tough without distribution in China, where "Ghostbusters" has been banned out of fear that it will inflame superstitions. Even at home, $200 million seems unlikely.
But this says more about the dubious economics of reboot filmmaking than it does about banking on actresses to deliver at the box office. ($144 million is unusually expensive for a comedy. It's hard to imagine an all-male ensemble that could make "Ghostbusters" profitable at that cost.) Nonetheless, Sony appears to be thinking long-term; that $144 million isn't just the cost of this movie, but the initial investment in a franchise. "Ghostbusters" didn't do Marvel Cinematic Universe numbers, but hopefully, in the long-run, it will rake in enough cash to ensure these hilarious ladies get another spin in the Ecto-1.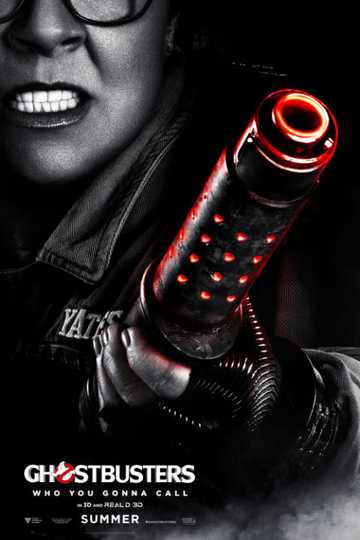 Ghostbusters
Following a ghost invasion of Manhattan, paranormal enthusiasts Erin Gilbert and Abby Yates, nuclear engineer Jillian Holtzmann, and subway worker Patty Tolan band together to stop the otherworldly threat. Read More