 War is not just coming, it's here.
That's the message we get from the first "War for the Planet of the Apes" teaser from 20th Century Fox. We can't say it is exactly surprising given the film's title. As the third installment in the reboot series, the sci-fi flick will bring back ape colony leader Caesar (Andy Serkis) as he takes on a new threat with his apes: a human army led a dangerous Colonel (Woody Harrelson).
The teaser shows snow as it forms an image of Caesar. Meanwhile, he issues an ominous warning. "You must go before the fighting begins," he says. "I'm sorry. War has begun." With that, his snowy figure is blown away.
The ape leader is right to be concerned. Caesar will see his kind suffer terrible losses in the film, leading to a quest for vengeance. He'll seek retribution against the Colonel, giving fans an epic battle to look forward to.
Watch the somber teaser below.
In addition to Serkis and Harrelson, the cast also includes Steve Zahn, Judy Greer, Karin Konoval, Amiah Miller, and Terry Notary. The film is directed by Matt Reeves.
"War for the Planet of the Apes" opens on July 14, 2017.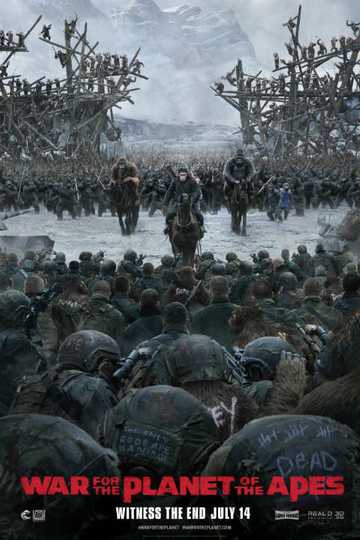 War for the Planet of the Apes
Caesar and his apes are forced into a deadly conflict with an army of humans led by a ruthless Colonel. After the apes suffer unimaginable losses, Caesar wrestles with his darker instincts and begins his... Read More