First 'Transformers: The Last Knight' Trailer Promises Explosive Robot War
"Two species at war: One flesh, one metal."
The first teaser trailer for "Transformers: The Last Knight" feels like a somber war movie, at first. But this is a Michael Bay movie, and "Bayhem" is just a few seconds away. Soon enough, there are plenty of car chases, car crashes, explosions, and giant robots battling humans and each other to remind you that this is, yes, a "Transformers" movie.
The King Arthur stuff that is part of this movie is teased early on, with shots of knights charging, archers aiming fiery arrows, and a robot dinosaur flying past a horseman. Very little plot is revealed, other than what Anthony Hopkins intones about two worlds colliding and Optimus Prime's absence.The latter fits with this being a sequel to "Age of Extinction," which ended with Optimus Prime heading into space with the Seed to confront the Creators. "Last Knight" will further explore the mythology of the Transformers and how they came to be.
The movie brings back stars Mark Wahlberg, Josh Duhamel, and Tyrese Gibson, and opens in theaters June 23.
Want more stuff like this? Like us on Facebook.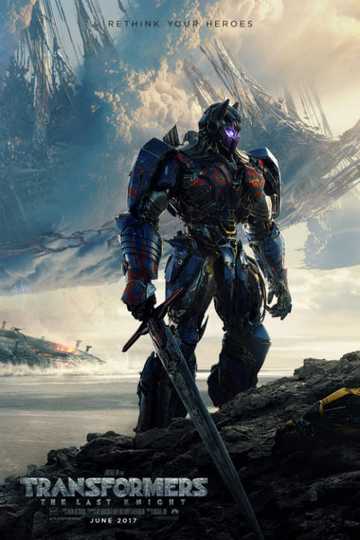 "For one world to live, the other must die."
2 hr 35 min
Jun 21st, 2017
Autobots and Decepticons are at war, with humans on the sidelines. Optimus Prime is gone. The key to saving our future lies buried in the secrets of the past, in... Read the Plot