 To us, this is (nearly) perfect! "Love Actually" came out in 2003, and fans have always been curious to know what happened to the characters in Richard Curtis's classic Christmas romance. Well, we'll soon find out. Most of the cast is reuniting for the short film "Red Nose Day Actually," to air during Comic Relief's Red Nose Day special, a charity event airing in the U.K. on March 24 and on NBC in the U.S. on May 25.
According to The Guardian, "Red Nose Day Actually" will feature Hugh Grant, Martine McCutcheon, Keira Knightley, Andrew Lincoln, Colin Firth, Lucia Moniz, Liam Neeson, Thomas Brodie-Sangster, Olivia Olson, Bill Nighy, Marcus Brigstocke, and Rowan Atkinson. Emma Thompson and Chiwetel Ejiofor are not mentioned at this point, and -- of course -- our beloved Alan Rickman passed away last year, so he won't be involved.
Richard Curtis explained his thought process in doing this 10-minute sequel-of-sorts:
"It seemed like a fun idea this year to do a special sketch based one of my films, since Red Nose Day is now in both the U.K. and America. I would never have dreamt of writing a sequel to 'Love Actually,' but I thought it might be fun to do 10 minutes to see what everyone is now up to. Who has aged best? – I guess that's the big question... or is it so obviously Liam? We've been delighted and grateful that so many of the cast are around and able to take part – and it'll certainly be a nostalgic moment getting back together and recreating their characters 14 years later. We hope to make something that'll be fun – very much in the spirit of the original film and of Red Nose Day – and which we hope will help bring lots of viewers and cash to the Red Nose Day shows."
If Chiwetel Ejiofor's Peter is sitting this out, maybe it's because Andrew Lincoln's character, Mark, finally gets his wish and steals Keira Knightley's Juliet away from his best mate? We'll have to see what happens when the special airs in May, or at least wait for video from the U.K. show to be posted in March.
[via Collider, The Guardian]
Want more stuff like this? Like us on Facebook.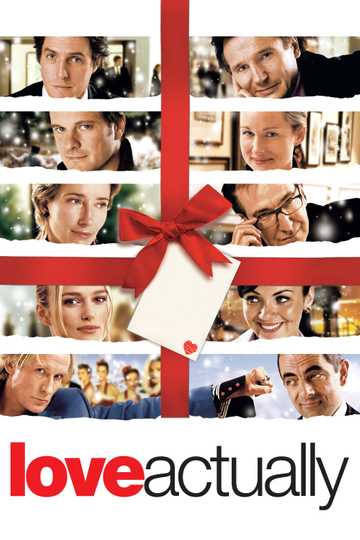 Love Actually
Follows seemingly unrelated people as their lives begin to intertwine while they fall in – and out – of love. Affections languish and develop as Christmas draws near. Read More