 This is a heartbreaker. Bill Paxton, beloved actor in "Aliens," "Terminator," "Big Love," "Tombstone," "Twister," "Apollo 13," "Titanic," "Hatfields and McCoys," and so many more -- has died from "complications from surgery." He was 61.
A family representative shared a statement on the tragic news (via People):
"It is with heavy hearts we share the news that Bill Paxton has passed away due to complications from surgery. A loving husband and father, Bill began his career in Hollywood working on films in the art department and went on to have an illustrious career spanning four decades as a beloved and prolific actor and filmmaker. Bill's passion for the arts was felt by all who knew him, and his warmth and tireless energy were undeniable. We ask to please respect the family's wish for privacy as they mourn the loss of their adored husband and father."
According to TMZ, Paxton had heart surgery and suffered complications after the operation, resulting in a fatal stroke. He leaves behind a wife of 30 years, Louise Newbury, and two children. Bill Paxton's son James is set to guest star on the eighth episode of CBS's "Training Day," which should air in mid-March. The series just premiered on Feb. 2, 2017, with Paxton as co-lead. On the film front, Paxton plays the father of Emma Watson's character in "The Circle," co-starring Tom Hanks, which will be released on April 28.
Paxton's friends and co-stars reacted to the sad news once it was released on Oscar morning:
Bill Paxton is 1of my favorite actors.I was able 2tell him so when we met yrs ago.Paxton was wonderful in everything he did. He inspired us. pic.twitter.com/hAXR9unvb6

— Vincent D'Onofrio (@vincentdonofrio) February 26, 2017
Bill Paxton was, simply, a wonderful man. A wonderful man... Hanx.

— Tom Hanks (@tomhanks) February 26, 2017
Bill Paxton could play any role, but he was best at being Bill - a great human being with a huge heart. My thoughts are with his family.

— Arnold (@Schwarzenegger) February 26, 2017
Crushing. #RIPBillPaxton A gr8 talent & spirit. His passion contributed so much 2 #Apollo13 & all his wrk. We'll miss the hell out of U Bill https://t.co/j2Khv6fmCP

— Ron Howard (@RealRonHoward) February 26, 2017
Some of my favorite memories are of floating around in a tiny vessel with big hearted,hilarious,brilliant Bill Paxton. Sad day.

— Kevin Bacon (@kevinbacon) February 26, 2017
He made this movie great--he acted his heart out. What a talented man. My thoughts are with his family. pic.twitter.com/rUcmmYME3h

— Helen Hunt (@HelenHunt) February 26, 2017
You were a great friend to me, Bill. AND one of the finest actors to share a set with. Sending so much love to Bill Paxton's family.

— Charlize Theron (@CharlizeAfrica) February 26, 2017
Nooooo. Bill Paxton is gone. Such a funny, talented, loving human. Louise & the children & family my ?& support 2 u. #trueliespic.twitter.com/d4zleWdOrR

— Jamie Lee Curtis (@jamieleecurtis) February 26, 2017
Devastated by the sudden loss of my close friend and one of the finest actors in the business, Bill Paxton. Renaissance man, raconteur and

— Rob Lowe (@RobLowe) February 26, 2017
uniquely American national treasure. His filmography speaks for itself. His friendship was a blessing. My love to Bunny, James and Lydia.

— Rob Lowe (@RobLowe) February 26, 2017
In his memory, on this Oscar Sunday, watch "One False Move" or "A Simple Plan" to see this lovely leading man, at his finest.

— Rob Lowe (@RobLowe) February 26, 2017
Bill Paxton was notoriously one of the nicest people in the industry. He also gave us some of the all-time most iconic movie moments.

— Jordan Peele (@JordanPeele) February 26, 2017
Very sad to hear about Bill Paxton. His talent, enthusiasm and energy were unique. Our thoughts are with his family pic.twitter.com/W4IVuILHxv

— Cary Elwes (@Cary_Elwes) February 26, 2017
Bill Paxton Dies: 'Twister', 'Big Love' Actor Was 61 https://t.co/7ExWuk8Em5 via @deadline NO WORDS - Bill was a good friend & such a talent

— Gale Anne Hurd (@GunnerGale) February 26, 2017
Bill Paxton was hands down one of the greatest guys that I have ever met. I feel lucky to have called him my friend. Bill, I love you. RIP.

— Aaron Paul (@aaronpaul_8) February 26, 2017
I am stunned & saddened at the passing of Bill Paxton. I just worked with him recently. A warm and beautiful soul and a talented actor. RIP

— Lou Diamond Phillips (@LouDPhillips) February 26, 2017
I am so saddened by Bill Paxton's passing. Had the pleasure of meeting him a few times in recent years and he was truly the loveliest guy.

— edgarwright (@edgarwright) February 26, 2017
I enjoyed every role that Bill Paxton played, but most recently his role as Sam Houston in "Texas Rising". Condolences to his family. pic.twitter.com/t5BC1CdlUm

— Travis Tritt (@Travistritt) February 26, 2017
Bill Paxton R.I.P. All those great movies wouldn't be complete without your supporting roles. pic.twitter.com/dRiWq7Ziep

— Russian Market (@russian_market) February 26, 2017
James Cameron, who directed Bill Paxton in "The Terminator," "Aliens," "True Lies" and "Titanic," shared a statement with Vanity Fair:
"I've been reeling from this for the past half hour, trying to wrap my mind and heart around it. Bill leaves such a void. He and I were close friends for 36 years, since we met on the set of a Roger Corman ultra-low budget movie. He came in to work on set, and I slapped a paint brush in his hand and pointed to a wall, saying "Paint that!" We quickly recognized the creative spark in each other and became fast friends. What followed was 36 years of making films together, helping develop each others projects, going on scuba diving trips together, watching each others kids growing up, even diving the Titanic wreck together in Russian subs. It was a friendship of laughter, adventure, love of cinema, and mutual respect. Bill wrote beautiful heartfelt and thoughtful letters, an anachronism in this age of digital shorthand. He took good care of his relationships with people, always caring and present for others. He was a good man, a great actor, and a creative dynamo. I hope that amid the gaudy din of Oscar night, people will take a moment to remember this wonderful man, not just for all the hours of joy he brought to us with his vivid screen presence, but for the great human that he was.
The world is a lesser place for his passing, and I will profoundly miss him."
Want more stuff like this? Like us on Facebook.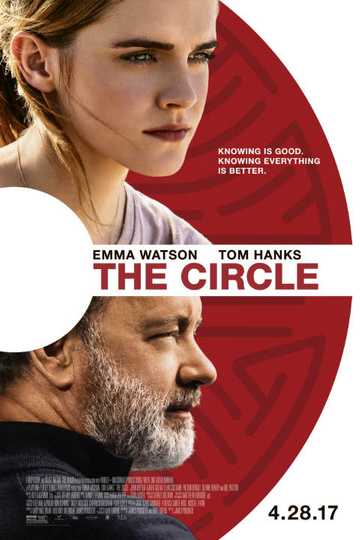 The Circle
A young tech worker takes a job at a powerful Internet corporation, quickly rises up the company's ranks, and soon finds herself in a perilous situation concerning privacy, surveillance and freedom. She... Read More