 Disneynature's "Born in China," out this week, is the latest in a line of springy nature documentaries that Disney has been putting out every Earth Day, more or less, for the past few years. The latest film follows three families of animals in modern-day China (yes, there are pandas) and, as narrated by John Krasinski, personalizes the animals' struggles without ever turning them into cartoonish caricatures. It's more about emphasizing the depths of their lives than flattening them into two-dimensional facades. But what's amazing about these Disneynature films is that you can trace their fundamental, well, nature, to innovations that Walt Disney himself made back in the 1940's. It was Walt who created the nature documentary and whose fundamental respect for animals, his emphasis on conservation, his insistence that the material be entertaining, and his ability to turn creatures into compassionate screen icons, can be felt in these films today.
So let's take it back ...
As early as 1943, Walt was talking about using his skills to produce things strictly for educational means. He had been courted for educational films for a while (a year later, in 1944, Encyclopedia Britannica wanted to lock the visionary into a multi-picture deal), but wanted to do something that was as entertaining as it was educational. "We can't be boring," Walt said.
By late 1944 Walt, an animal lover since growing up on a farm in Missouri, first laid out a plan for a series of short films, but by the end of 1944 made a trip to the New York Zoological Society with something grander, more ambitious in mind. He had first talked a husband-and-white photography team with taking footage of Alaska ("Everything that moved" was what Walt said). The process took a long time. Like, a long time. After Walt insisted that the documentarians focus on seals (and after he himself took a trip to Alaska in 1947), they finally had a movie in 1948. This was "Sea Island," the first of a Disney series called "True-Life Adventures."
At 28 minutes, the movie was too long for a short and too short for a feature. RKO, who was distributing Walt's movies at the time, refused to release it, so Disney personally exhibited it in a theater in Pasadena. Audiences loved it and it won the Academy Award for Documentary Short Subject. Disney biographer Neal Gabler said that the film "in its own way proves just as revolutionary as his first sound animation or Snow White." Once again, Walt was introducing something to the movie-going public, something that they had never experienced before, never even thought about, but now that it was here, they couldn't get enough of it.
The movies were troublesome and costly to produce (something that made Walt's brother, Roy O. Disney, who handled the finances for the studio, nervous), with a fraction of the footage shot making it into the final film, but they were transcendent, beautiful, and unlike anything else out there. Walt had followed through on his promise: With their bouncy soundtracks, anthropomorphized subjects, and gorgeous photography, these were not boring.
Of the 14 films produced in the "True-Life Adventures" series, eight of them won Academy Awards. The films would inspire a line of books, a comic strip printed in newspapers nationwide each week, and a spin-off series called "True-Life Fantasies," which featured animal casts wedged into more traditional narrative frameworks (this was things like "Charlie, the Lonesome Cougar"). An early version of Disneyland had a different name for Adventureland -- True-Life Adventureland, which shows you how all-in the studio was about this material. In this version of the land, the Jungle Cruise would have you float by real-life animals instead of cartoon-y Audio-Animatronic versions and actually give you the ability to take home an exotic animal as a pet (ah, the '50s). The idea of animals in a Disney Park would come to fruition decades later, when Disney's Animal Kingdom opened as part of Walt Disney World in 1998. (You can also see echoes of the "True-Life Adventures" in elements of Frontierland and can see posters for the films hanging in the Smokejumpers Grill restaurant in Disney California Adventure.)
Virtually every nature documentary that came after Walt's "True-Life Adventures" were inspired by the series and owes him a considerable debt. Everything from "March of the Penguins" to "Planet Earth" sprouted from these early films, in structure, narrative, and philosophy. Walt introduced audiences to a world that they could connect with, one without heavy-handed moralizing or sterile detachment. These stories were warm, relatable, and mind-blowing. Walt would later say of the films, "We did not succumb to the alluring temptations to make villains or saints of the creatures portrayed in our films. We have maintained a sensitive regard for the wisdom of nature's design and have attempted to hold a mirror to the out-of-doors rather than to interpret its functioning by man's standards."
It's Walt's original vision that you can see course through "Born in China" -- and all of the Disneynature films. So many of his breakthroughs -- humanistic narration, painstaking photography, an easy-to-follow narrative -- are present, and it's hard to imagine "Born in China" (or any other modern nature documentary) without them. Walt was great at understanding what audiences wanted but also that they wouldn't just accept the same old thing. If he was going to make a documentary about animals, it had to be the best documentary about animals ... ever. The Disneynature team understands this and, with each film, pushes the medium a little bit forward. Walt would be proud.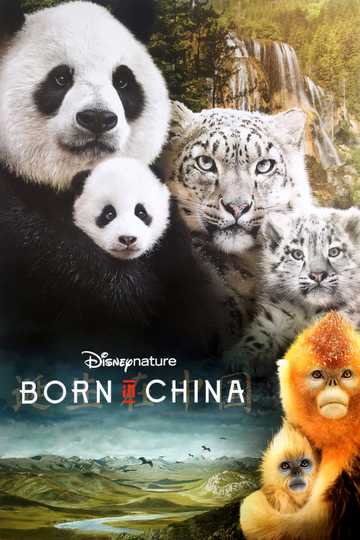 Born in China
Venturing into the wilds of China, "Born in China" captures intimate moments with a panda bear and her growing cub, a young golden monkey who feels displaced by his baby sister, and a mother snow leopard... Read More