June 13th, 2017
by Moviefone Staff
Jacob Tremblay: I'm Playing a Boy 'Most Like Me' in The Book of Henry
For a 10 year old, Jacob Tremblay has been one busy actor, with some 20 credits, including his breakout role as a kid held hostage with his kind mother in "Room" starring Oscar-winner Brie Larson.
But one part stands out: the little brother in "The Book of Henry."
"Out of all o the characters I've ever played he is most like me," Tremblay tells Made in Hollywood reporter Kylie Erica Mar, "because he's silly like me. He likes to goof around like me. He loves his family like me. So it was really fun to take on that character."
https://www.youtube.com/watch?v=-Cp2Jqyh0ig&index=9&list=PLaE1vFjVg7POerMZtvAn3RugGAxDlRXDm
In "The Book of Henry," Tremblay's Peter Carpenter comes under the protection of his older brother Henry, played by Jaeden Lieberher, who also watches out for their single mom (Naomi Watts) and the neighbor girl Christina (Maddie Ziegler), who's enduring abuse by her stepfather. Henry documents his plan to rescue the girl in a book that's discovered by his mother.
"There's so many things mixed in it," Tremblay says of the film. "There's happy, drama, thriller, suspense. All that stuff in one big movie. It's kind of like a one-of-a-kind, really original."
Lieberher says playing Henry meant channeling a very unique boy.
"He's 12 but he's not like any other 12 year old," he says. "The most important thing to him is to protect others that aren't protecting themselves. He's a genius. He takes care of his family financially. He protects his brother from bullies. He's just a kind person."
And for Ziegler, "The Book of Henry" meant working with a role model -- Watts.
"I had such an amazing time getting to know her," says Ziegler. "She's definitely an inspiration to me, and I looked up to a lot while filming and I learned a lot from her."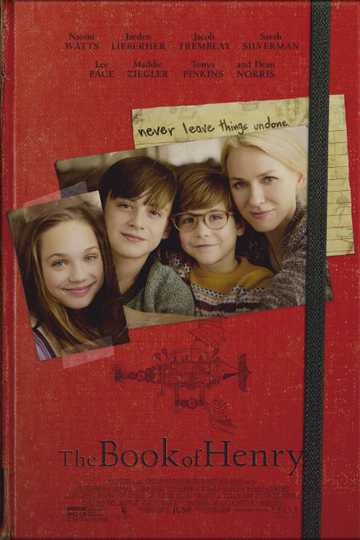 "Never leave things undone."
1 hr 45 min
Jun 23rd, 2017