 There's a whole new "Bill & Ted" movie ready to go. The script is written and both Keanu Reeves and Alex Winter are in. So what's the problem?
Screenwriter Ed Solomon tells Digital Spy it's not about lining up talent, "We have been working for almost 10 years to get this thing made: Alex Winter, Keanu Reeves, and [screenwriting partner] Chris Matheson. We have a director -- Dean Parisot, who did 'Galaxy Quest,' Steven Soderbergh is one of our producers. We have a wonderful assembly of people."
The third film, called "Bill & Ted Face the Music" would have a now middle-aged Bill & Ted meeting their younger (digital) selves in what sounds like a truly mind-blowing scene. But Solomon says that he's having issues raising money because "what we get all the time –- all the time –- is people wanting to reboot it."
He says he constantly hears, "'Let's do 'Bill & Ted with new teenagers,' but what we wanna do is the story of Bill and Ted as middle-aged men, and tell what we think could be a really funny, and actually really moving, story about their lives and where they are now, their families, their kids..."
Come on Hollywood, greenlight Bill and Ted Face the Music!
The script for the third movie is ready to go and will have the older Bill and Ted travelling back to meet their Excellent Adventure selves. pic.twitter.com/YKkILySdKK

— Last Exit To Nowhere (@LASTEXITshirts) January 25, 2018
Sure, the first two movies didn't make much money, but they are massive cult films. Solomon says, "I'm certain that whoever invests in this could make their money back, and hopefully a lot more. It's never gonna be a movie that me and Chris Matheson get rich on. I've never made much money off of Bill & Ted. We never get profits from it, our salaries were very small from it, but it's the one movie in my life that... if I'd never done anything but Bill & Ted, I would've been really happy."
We have to agree when he says, "If the only thing we put into the world ever was this notion of 'be excellent to each other', we could look each other in the eye and feel like we did something right."
Do we need a GoFundMe or a Kickstarter to make this happen? C'mon!
[Via Digital Spy]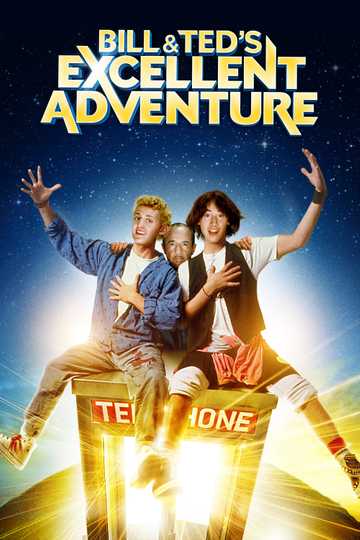 Bill & Ted's Excellent Adventure
Bill and Ted are high school buddies starting a band. They are also about to fail their history class—which means Ted would be sent to military school—but receive help from Rufus, a traveller from... Read More