February 27th, 2018
by Gina Carbone
Jennifer Lawrence Slams 'Phantom Thread': 'I Got Through About 3 Minutes of It'
The Queen of Oversharing is on a streak. Jennifer Lawrence always gives candid interviews, and with "Red Sparrow" heading to theaters Friday, March 2, she is everywhere right now, saying everything ... whether she should or not.
Her latest target is a bit of left field choice: Paul Thomas Anderson's movie "Phantom Thread." It is nominated for six Academy Awards, including Best Picture, and Best Actor for Daniel Day-Lewis in what's billed as his final acting role.
Jennifer Lawrence is an Oscar winner for "Silver Linings Playbook," and she gets to vote for the 2018 Best Picture. But not only did she not care to vote for "Phantom Thread," she didn't even watch it. Here's what she told Marc Maron's "WTF" podcast (via IndieWire):
"I got through about three minutes of it. I put in a good solid three. I'm sorry to anybody who loved that movie," Lawrence said. "I couldn't give that kind of time. It was three minutes and I was just [oof].

Is it just about clothes? Is [Reynolds Woodcock, DDL's character] kind of like a narcissistic sociopath and he's an artist so every girl falls in love him because he makes her feel bad about herself and that's the love story? I haven't seen it, so I don't know. I've been down that road, I know what that's like, I don't need to watch that movie [laughs]."
Oof is right. If there are any third rails in Hollywood, insulting Daniel Day-Lewis might be one of them. Lawrence didn't quite go that far, but she got close. At the very least, PTA is less likely to give her a call for his next film, and considering his track record ("There Will Be Blood," "The Master," "Boogie Nights," "Punch-Drunk Love") you'd almost think she'd want to at least be respectful. Then again, JLaw's brand is candor. Maybe PTA and DDL would appreciate her honesty.
Some commenters have agreed with her on "Phantom Thread" -- which has a 91 percent fresh rating on Rotten Tomatoes, and a 70 percent Audience Score. But others have used JLaw's words as an opportunity to say the same about her films, including the reviled "mother!" and "Passengers."
Speaking of "mother!" Lawrence is up for a Razzie Award for that movie. Don't forget to see if she "wins" on Saturday, the day before the Sunday, March 4 Oscars. You always get bonus points for showing up to accept your Razzie in person, but considering she was a controversial nominee, she may not be the big loser/winner.
[Via: IndieWire]
Want more stuff like this? Like us on Facebook.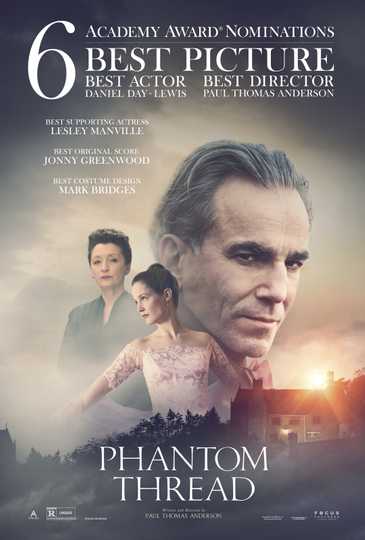 Phantom Thread
In 1950s London, renowned British dressmaker Reynolds Woodcock comes across Alma, a young, strong-willed woman, who soon becomes ever present in his life as his muse and lover. Read More