 On Thursday, March 29, Warner Bros. releases "Ready Player One," Steven Spielberg's adaptation of the best-selling novel of the same name by Ernest Cline.
Before you plunk down your quarters for a ride through its '80s-influenced pop culture landscape, check out a few things you need to know about the movie and its makers.
1. Ernest Cline's source material is an award-winning cultural phenomenon Much like with J. K. Rowling and "Harry Potter," Cline's debut novel became a runaway success upon its publication in 2011, competing with the likes of the "Fifty Shades" series and "Game of Thrones" for top-ten spots in the New York Times best sellers list.
The tribute to Cline's childhood influences -- 1980s movies and music -- resonated immediately with critics as well, receiving warm reviews from Entertainment Weekly, The Boston Globe and others. Thus far translated into more than 20 languages, "Ready Player One" won recognition from the American Library Association and picked up a Prometheus Award.
2. On the page or screen, "Ready Player One" is perfect for fans of '80s entertainment The film follows a young man (Tye Sheridan) who becomes an unlikely hero in a virtual world designed by a pop culture-obsessed visionary (Mark Rylance). Consequently, the OASIS features a who's who of iconic characters, props, and environments from so many of the iconic properties of that decade -- from the DeLorean in "Back to the Future" to Freddy Kruger, to Atari 2600 video games to music by the band Rush.
Special-projects supervisor Deidre Backs also secured the rights for dozens of movie and TV properties from subsequent decades, along with a library's worth of video game characters and their worlds; basically, if you keep your eyes peeled during the film, you're likely to see some mention of or reference to something you loved as a kid.
3. This geek-friendly story is for girls, too! Starring Sheridan, Rylance, Ben Mendelsohn, Simon Pegg, and T. J. Miller, "Ready Player One" boasts an impressive cast of male stars with substantial sci-fi pedigrees ("X-Men: Apocalypse," "Rogue One," "Star Trek," "Deadpool").
But the film's female cast is equally strong, featuring Olivia Cooke ("Me and Earl and the Dead Girl"), Emmy Award-winner Lena Waithe ("Master of None"), Hannah John-Kamen ("Tomb Raider"), and "Black Panther" breakout Letitia Wright in strong, complex roles that not only complement their male counterparts, but also commandeer the screen.
4. Are you really going to miss out on a sci-fi action movie directed by Steven Spielberg? Although Spielberg was reportedly reluctant to make too many references to his own work -- especially after getting roasted for lampooning "Duel" and "Jaws" in "1941" -- he remains the connective tissue holding virtually the whole film together, not just as its director, but the architect of so many of the worlds within its story thanks to his own iconic body of work.
His peerless work behind the camera has shaped the imaginations of literal generations of moviegoers (much less Mr. Cline), constructing one unforgettable sequence after another in films from "Raiders of the Lost Ark" to "Jurassic Park" to "Minority Report. He remains at the top of his craft as he reflects upon the legacy he has left upon the silver screen.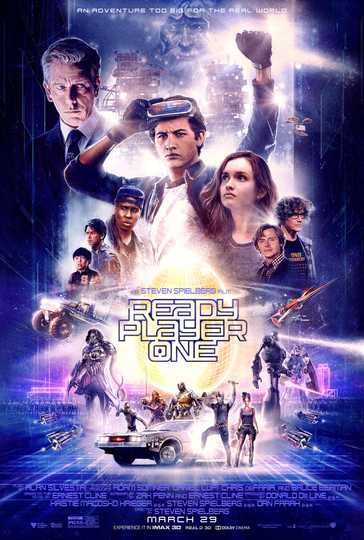 Ready Player One
When the creator of a popular video game system dies, a virtual contest is created to compete for his fortune. Read More