We've got a little over a month until "Solo: A Star Wars Story" hits theaters. These photos (via EW) should help tide you over.
Alden Ehrenreich plays young Han Solo in this prequel, set 10 years before the first "Star Wars" film.
The actor talked to EW about working with Joonas Suotamo, who takes over the role of Chewbacca from Peter Mayhew: "Joonas is a really funny guy, and he also brings a lot to the role. It's clear when you're up close and seeing him do it just how much Wookiee craft he really has to do, knowing how to move in the suit to convey the right things."
Ehrenreich also talked about Han and Lando (Donald Glover). "Their relationship is many different things, as it is when you see them in the original films. I think they have very different styles."
Glover says Lando (first played by Billy Dee Williams) knows he looks good. "Lando's always the best-dressed person on that set. And I don't say that lightly. There's a lot of cool costumes and a lot of cool clothing," Glover says. "[Lando] takes pride in the clothing. It makes things easier. When people see you and you're debonair, they tend to want to give you stuff easier."
"Solo: A Star Wars Story" opens May 25. [Via EW]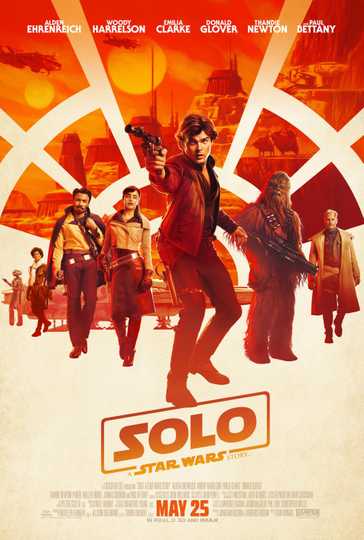 Solo: A Star Wars Story
Through a series of daring escapades deep within a dark and dangerous criminal underworld, Han Solo meets his mighty future copilot Chewbacca and encounters the notorious gambler Lando Calrissian. Read More