 John Wick is back in New York City, and this time he's facing down tourists.
"John Wick: Chapter 3" just started filming in the Big Apple, with cinematographer Dan Laustsen sharing photos from the first couple of days on set.
Visitors -- or people who happen to live there who noticed "Holy crap, that's a bloody Keanu Reeves shooting scenes outside" -- also shared photos and footage from the area.
That gorgeous second shot sets the mood of John Wick in the rain, but it's the fans' footage that shows John on the run. Not that it's a spoiler of any kind, since that's the premise of "Chapter 3," which appears to pick up directly from "Chapter 2."
Here's the movie synopsis:
"John Wick (Keanu Reeves) is on the run for two reasons... he's being hunted for a global $14 million dollar open contract on his life, and for breaking a central rule: taking a life on Continental Hotel grounds. The victim was a member of the High Table who ordered the open contract. John should have already been executed, except the Continental's manager, Winston, has given him a one-hour grace period before he's "Excommunicado" – membership revoked, banned from all services and cut off from other members. John uses the service industry to stay alive as he fights and kills his way out of New York City."
Check out some of the fan footage of Keanu in action:
Such a cool guy.
"John Wick: Chapter 3" opens in theaters May 17th, 2019, just a couple of weeks after "Avengers 4." Keanu is also confirmed for his third "Bill & Ted" movie, which comes out ... whenever.
Want more stuff like this? Like us on Facebook.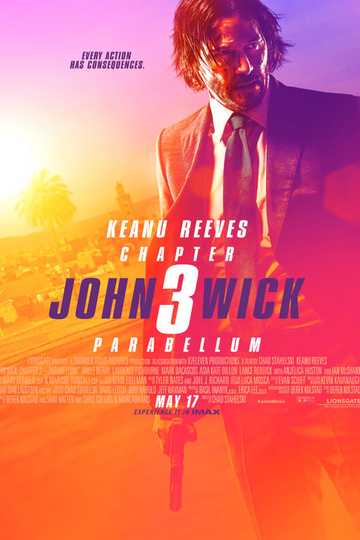 John Wick: Chapter 3 - Parabellum
Super-assassin John Wick returns with a $14 million price tag on his head and an army of bounty-hunting killers on his trail. After killing a member of the shadowy international assassin's guild, the... Read More