Jeremy Renner Teases 'Awesome' 'Avengers 4' & Apologizes for Intense Hawkeye Fans
Maybe Jeremy Renner is playing "Tag" with Hawkeye and Hawkeye is just too damn good to catch?
Renner kinda led us astray on Hawkeye's involvement in "Avengers: Infinity War," but we're still trusting him on "Avengers 4." Because of course it will be "awesome."
Late last year, a magazine photo showed off Hawkeye's new look, suggesting Renner would be in "Avengers: Infinity War," despite the trailers completely ignoring his original Avenger. In a December interview, Renner told the South China Morning Post of Hawkeye, "We're doing a lot of really wondrous things that I've always wanted to do with this character ... I think everyone will be very pleased when they find out what happens."
Well, maybe he meant in "Avengers 4." Because if you've seen "Infinity War," you know what happens...
SPOILER ALERT.
Nada.
Hawkeye (aka Clint) and Ant-Man (aka Scott) spent the events of "Infinity War" with their own families, as referenced in a throwaway line during the movie.
Now Jeremy Renner is promoting his movie "Tag," which actually referenced MIA Hawkeye in one of its promos:
Love it.
In a new interview, USA Today asked Renner if it was cool to him to see how worried fans were when Hawkeye was missing from all of the "Infinity War" marketing:
"It's a nice feeling, I suppose. I think the Russo Brothers (Anthony and Joe, who directed) got way too many death threats. I'm like, 'Wow, dude, that's intense. I'm sorry!'"
So don't embarrass him any further with more melodramatic threats, no matter what happens (or doesn't happen) in "Avengers 4." We're *pretty* sure Hawkeye will be in that 2019 movie, but here's all he would say about it:
"Everybody's got to bite their tongue. But if you like 'Infinity War,' there's some stuff to come. What I do know is it's going to be awesome."
Renner also commented on the matching Avengers tattoos he got alongside fellow OGs Robert Downey Jr., Chris Evans, Scarlett Johansson, and Chris Hemsworth:
"Some of the work can be tedious and the stunts are great, but the best part of that whole experience with the Marvel/Avengers world was the people involved in it. It's an amazing feeling to walk away from a job and have this many friendships."
Speaking of friendships, watch this new "Tonight Show" interview for more of Renner's thoughts on the original six Avengers -- and their epic group text:We're hoping to see all of the original Avengers (including Mark Ruffalo, who "chickened out" from getting a tat) back together for "Avengers 4," which opens in theaters May 3, 2019. Renner's new comedy "Tag" opens this Friday, June 15.
In the meantime, at least Marvel gave Hawkeye his own golden hero poster in honor of the MCU's 10th anniversary.
Want more stuff like this? Like us on Facebook.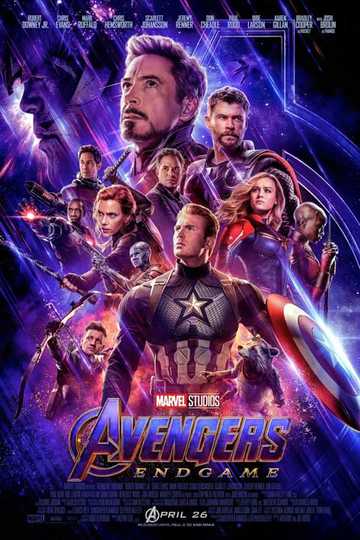 Avengers: Endgame
After the devastating events of Avengers: Infinity War, the universe is in ruins due to the efforts of the Mad Titan, Thanos. With the help of remaining allies, the Avengers must assemble once more in... Read More