June 14th, 2018
by Gina Carbone
What's Next After 'Avengers 4'? 'Different Incarnations of Characters You Know'
We've already been warned that "Avengers 4" will be a game-changer.
Marvel Studios big cheese Kevin Feige previously told Vanity Fair the 2019 film will feature "things you've never seen in superhero films: a finale." Original Avengers cast members have been waxing nostalgic about passing the torch onto the new crew. We know it's coming.
Still, Feige has Marvel Cinematic Universe movies planned until at least 2025. So we know -- after 10 years -- the MCU is still just getting started.
Disney Boss Bob Iger recently said, after the current MCU Phase 3, "I'm guessing we will try our hand at what I'll call a new franchise beyond Avengers, but that doesn't necessarily mean you won't see more Avengers down the road."
Feige was recently asked about the next phase of the MCU while at the Produced By conference; here's part of his answer:
What next after Avengers IW2? Kevin Feige says he is working on:
- Continuing stories of characters you're familiar with
- Different incarnations of characters you know
- Introducing completely new characters you never heard of before (unless ur a comics fan) #ProducedBy2018

— Digital LA (@DigitalLA) June 9, 2018
Feige had more to say at the conference, including on new characters, but that "different incarnations" line is in keeping with fan expectations. But you never know -- just because fans follow the Marvel Comics universe doesn't mean Marvel Studios plans to adapt those specific stories for film.
Still, stars like Chris Evans have mentioned packing it in after "Avengers 4." So who might pick up Captain America's shield after "Avengers 4" -- Bucky Barnes/White Wolf or Sam Wilson /Falcon?
Letitia Wright has said her Shuri would be ready to take up the mantle of Black Panther, if needed. But she could also rock that Iron Man suit. Also, will Peter Parker pass the torch as Spider-Man? Tom Holland is in the middle of a reported trilogy, with the sequel to "Spider-Man: Homecoming" starting filming this July for its opening next July, and then a third movie. But what about Miles Morales? Could the young Marvel character put on the Spidey suit while Peter is, uh, detained, or will Peter hand the reins to Miles after the end of his own trilogy? Other?
The Playlist speculated that someone else could also pick up Mjolnir and become the new Thor (let it be Rabbit!) if Thor is one of the OGs to exit stage left after "Avengers 4."
"Avengers" fans are very fond of the original characters and actors, but a passing of the torch is natural and we have to get ready for it to happen. It's just a matter of when and how they shape the transitions.
"Avengers 4" opens May 3, 2019, two months after we meet "Captain Marvel" on March 8, 2019. "Avengers: Infinity War" is still cleaning up at theaters, recently passing the $2 billion mark.
Want more stuff like this? Like us on Facebook.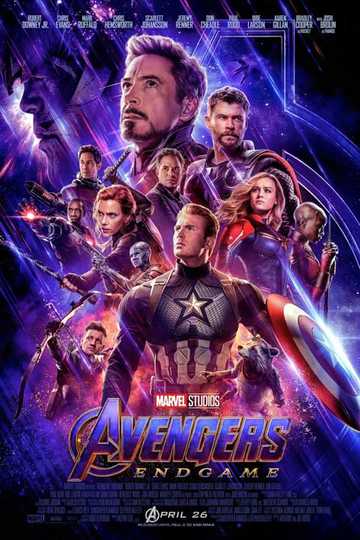 Avengers: Endgame
After the devastating events of Avengers: Infinity War, the universe is in ruins due to the efforts of the Mad Titan, Thanos. With the help of remaining allies, the Avengers must assemble once more in... Read More