Quentin Tarantino's "Once Upon a Time in Hollywood" is now filming, and Margot Robbie just shared the first look at her character, Sharon Tate.
Sharon Tate was a real woman, of course, and next year marks the 50th anniversary of her murder at the hands of the Manson Family. The "Valley of the Dolls" actress was married to Roman Polanski at the time, and was heavily pregnant with their son. She was 26.
Here's Margot Robbie's Sharon Tate, and some photos of the real Sharon Tate:
The upcoming movie won't heavily focus on Sharon Tate's murder, that's just the backdrop of the story, but it was going to be released on the exact 50th anniversary of Tate's death -- August 9, 2019. Sony changed that to July 26, 2019.
The highly anticipated film is set in Los Angeles in 1969, following former star of a Western TV series Rick Dalton (Leonardo DiCaprio); his longtime stunt double Cliff Booth (Brad Pitt); and Rick's very famous next-door neighbor, Sharon Tate (Margot Robbie).
The photo at top shows Leo and Brad in character. And now we've seen Margot as well.
The supporting cast is HUGE, including Al Pacino, Burt Reynolds, Tim Roth, Kurt Russell, Michael Madsen, Damian Lewis, Dakota Fanning, and many more.
Quentin Tarantino described this movie as "probably the closest to 'Pulp Fiction' that I have done."
"Once Upon a Time in Hollywood" is currently scheduled to arrive in theaters July 26, 2019.
Want more stuff like this? Like us on Facebook.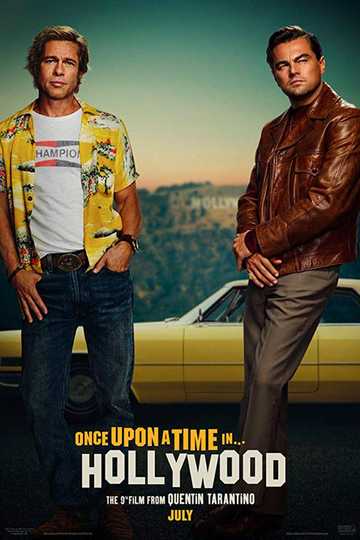 Once Upon a Time… in Hollywood
Los Angeles, 1969. TV star Rick Dalton, a struggling actor specializing in westerns, and stuntman Cliff Booth, his best friend, try to survive in a constantly changing movie industry. Dalton is the neighbor... Read More