'Once Upon a Time in Hollywood' Casts Its Charles Manson and Roman Polanski
The gigantic cast for Quentin Tarantino's "Once Upon a Time in Hollywood" just picked up two key players.
Unlike most of the stars, though, the actors playing Charles Manson and Roman Polanski are not household names. (Yet.)
The film is set in 1969, and follows Leonardo DiCaprio and Brad Pitt as actor Rick Dalton and Rick's longtime stunt double Cliff Booth, with Margot Robbie as Rick's famous neighbor Sharon Tate.
The backdrop of the film is the Charles Manson murders that would claim the life of pregnant Sharon Tate and four others.
Sharon Tate was married to director Roman Polanski at the time of her murder, and was nearly due to give birth to their son.
Polish actor Rafal Zawierucha has been cast to play the young Roman Polanski:
Australian actor Damon Herriman("Justified") has been cast to play cult leader Charles Manson:
And still more names have been cast around the leads -- including Rumer Willis as British actress Joanna Pettet; Dreama Walker as actress and singer Connie Stevens; Costa Ronin as Polish actor Voytek Frykowski, one of the Manson Family's victims; Margaret Qualley as a character called Kitty Kat; Madisen Beaty as Katie; and Victoria Pedretti as Lulu.
The expanding cast also recently added Sydney Sweeney, Danny Strong, Clu Gulager, James Landry Hébert, and Mikey Madison.
Previous additions include Lena Dunham, Maya Hawke, and Austin Butler. And that's in addition to the huge previously announced cast, including Al Pacino, Burt Reynolds, Tim Roth, Kurt Russell, Michael Madsen, Damian Lewis, Dakota Fanning, Clifton Collins, Jr., Luke Perry, Scoot McNairy, Timothy Olyphant, Zoe Bell, James Marsden, Mike Moh, and more.
Also, check out some set photos of the two lead stars in action:
"Once Upon a Time in Hollywood" is scheduled to be released on July 26, 2019.
Want more stuff like this? Like us on Facebook.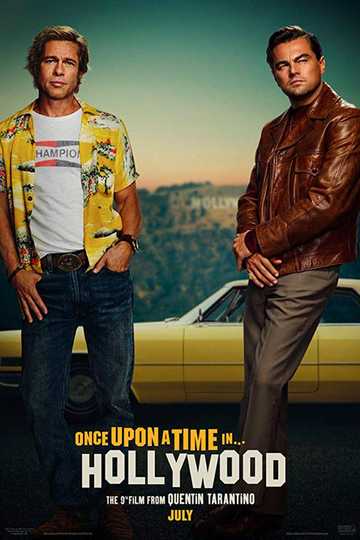 Once Upon a Time… in Hollywood
Los Angeles, 1969. TV star Rick Dalton, a struggling actor specializing in westerns, and stuntman Cliff Booth, his best friend, try to survive in a constantly changing movie industry. Dalton is the neighbor... Read More