'Once Upon a Time in Hollywood' Adds Lena Dunham, Maya Hawke, Austin Butler, More
If Quentin Tarantino's "Once Upon a Time in Hollywood" keeps growing it may literally star everyone who has ever been in Hollywood.
The 1969-set drama stars Leonardo DiCaprio and Brad Pitt as actor Rick Dalton and Rick's longtime stunt double Cliff Booth, with Margot Robbie as Rick's famous neighbor Sharon Tate. The backdrop of the film is the Charles Manson murders that would claim the life of pregnant Sharon Tate and four others.
According to TheWrap, Lena Dunham ("Girls") has joined the cast in her first major feature film role. She'll play Gypsy.
Catherine Louise "Gypsy" Share was a member of the Manson Family, but wasn't directly involved in the August 1969 Tate murders. She did later testified at the 1970 trial, and served time in prison after a shootout with fellow Family members in 1971.
Former Disney/Nickelodeon star Austin Butler ("Switched at Birth," "The Shannara Chronicles") has also joined the cast as Tex. Charles "Tex" Watson was also a member of the Manson Family, and was directly involved in the Tate murders.
Maya Hawke -- daughter of Ethan Hawke and Uma Thurman -- has been cast as the fictional character Flower Child. She's hot off "Little Women" and her upcoming role in "Stranger Things" Season 3.
Lorenza Izzo ("Knock, Knock," "Aftershock") is a Chilean actress/model, but she will play glamorous Italian movie star Francesca Capucci.
Actor/martial artist Mike Moh ("Inhumans") was previously announced to be joining the cast as Bruce Lee, who worked with Sharon Tate and was briefly investigated for the Manson murders.
The film has already shared first look photos of DiCaprio and Pitt in character (see above) and Margot Robbie as Sharon Tate.
"Once Upon a Time in Hollywood" is scheduled to be released on July 26, 2019.
Want more stuff like this? Like us on Facebook.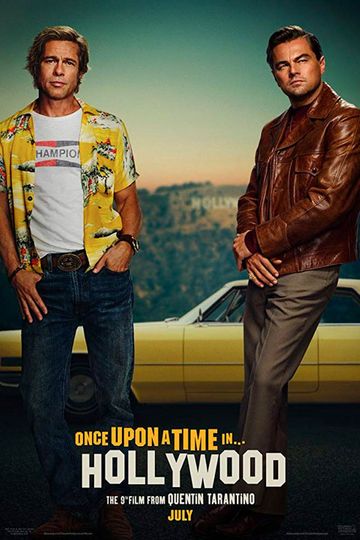 "In this town, it can all change… like that"
2 hr 42 min
Jul 26th, 2019
Los Angeles, 1969. TV star Rick Dalton, a struggling actor specializing in westerns, and stuntman Cliff Booth, his best friend, try to survive in a constantly changing... Read the Plot