"I'm not what you think I am," says Carol Danvers in the first trailer for "Captain Marvel."
What she is, though, is the Marvel Cinematic Universe's first female lead superhero. She's part human, part alien and has formidable powers.
The trailer doesn't provide much in the way of plot. It simply introduces Carol (Brie Larson), a pilot who gains those powers after she's infused with Kree alien DNA. She crash lands into a Blockbuster Video (the movie is set in the '90s) and afterwards meets a young Nick Fury (Samuel L. Jackson, de-aged thanks to CGI).
Carol's powers have plunged her into an intergalactic war between the Kree and the Skrull (led by Jude Law and Ben Mendelsohn, respectively). The trailer indicates she's lost her memories of her time as just a human, but starts experiencing flashbacks to her days as an Air Force pilot. So, it seems this war will be coming to Earth, as well.
"Captain Marvel" also stars Clark Gregg (also CG de-aged), Annette Bening, Lee Pace, Lashana Lynch, and Gemma Chan, and opens in theaters March 8, 2019.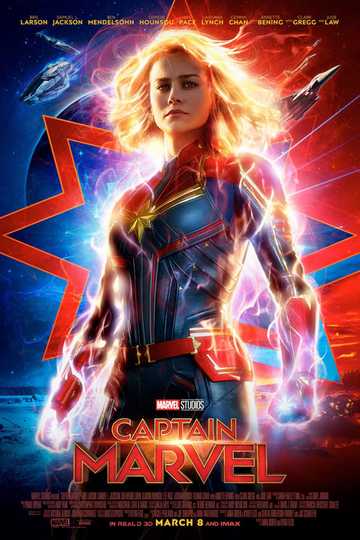 Captain Marvel
The story follows Carol Danvers as she becomes one of the universe's most powerful heroes when Earth is caught in the middle of a galactic war between two alien races. Set in the 1990s, Captain Marvel... Read More