Your eyeballs will behold the glory of the first "Avengers 4" trailer at some point in the next two months.
So protect yourself. Don't do anything stupid and ruin your chances of seeing it. Maybe just stay home the whole time. School/work will understand.
Marvel Studios boss Kevin Feige previously said we'd get the title for "Avengers 4" toward the end of the year, after the first promotion for "Captain Marvel." Now that we've seen the early "Captain Marvel" promotion, it's looking like the title and trailer for "Avengers 4" may drop together.
Critics Choice reporter Erick Weber just updated that Feige confirmed a trailer by the end of 2018. It's late October, so two months remain:
Brushing past Namor and the ill-fated "Guardians of the Galaxy Vol. 3" ... when do you think we'll get that "Avengers 4" trailer?
Marvel fans are speculating that the trailer could be tied to an upcoming Disney/Marvel Comics release -- including "Ralph Breaks the Internet" on November 21; "Spider-Man: Into the Spider-Verse" on December 14; or "Mary Poppins Returns" on December 19.
However, ComicBook added this intriguing note:
"Of course, there's also been another possibility: November 29, 2018. That date marks the one-year anniversary of the first Avengers: Infinity War trailer, which was one of the most highly-anticipated events in cinema that year. The trailer's release was touted as a major event, and it resulted in one of YouTube's most-viewed movie trailers of all time, wracking up millions of views in record time."
November 29 is a Thursday this year. What do you think: "Good Morning America" drop that morning, or "Jimmy Kimmel Live" that night -- with an appearance from the cast?
The November guess fits with previous speculation on the release of the first "Avengers 4" trailer. That was also mostly based on what Marvel had done before.
So, if that's the case, your eyeballs will behold the glory of the "Avengers 4" trailer in just one month. Keep a box of tissues on standby for whenever this thing drops, 'cause there's no way the follow-up to "Avengers: Infinity War" won't flex your emotions.
"Avengers 4" is currently scheduled for release in U.S. theaters on May 3, 2019.
Want more stuff like this? Like us on Facebook.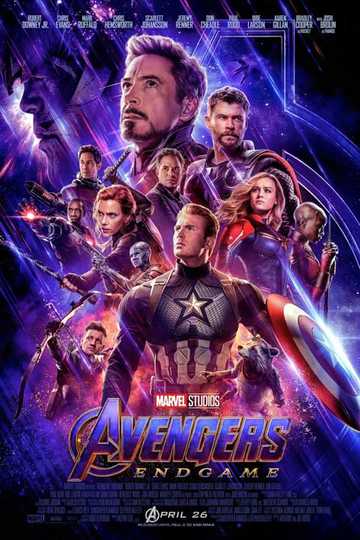 Avengers: Endgame
After the devastating events of Avengers: Infinity War, the universe is in ruins due to the efforts of the Mad Titan, Thanos. With the help of remaining allies, the Avengers must assemble once more in... Read More