 Disney is renowned for creating some of the most beloved, family-friendly animated films ever. Movies that make us smile, laugh and sometimes cry obscene amounts of tears. Pixar and Disney turn us into tear factories often, and here are 11 times their animated films made us reach for the tissues.
Mufasa's Death in 'The Lion King' (1994) It used to be that the death of Bambi's mother was the end-all, be-all as far as "tragic death of a loving parent figure" scenes go. "The Lion King" next level'd it, though, by drawing out Mufasa's death and making poor young Simba believe it was all his fault. That's some cold s--t, Disney.
The Death of Coral in 'Finding Nemo' (2003) "Finding Nemo" didn't waste much time before yanking on our heartstrings, and then yanking out our hearts. No sooner were we introduced to Marlin and Coral, and their hundreds of eggs, than a random barracuda attack left Marlin a widower with only one baby left. It's the stuff super-villain origin stories are made of.
Anna's Brush With Death in 'Frozen' (2013) "Frozen" is the rare Disney movie that places more importance on the love between sisters than a romance between prince and princess. The climax really exploited the tumultuous relationship between Anna and Elsa for all it was worth when the former sacrificed herself in an act of true love. And now our allergies are acting up again...
Abandoning Tod in 'The Fox and the Hound' (1982) There is literally nothing sadder than the thought of someone having to abandon their beloved pet in the wild. The fact that poor, young fox pup Tod simply didn't understand what was happening to him in this scene made it all the harder to bear. This is why everyone refers to the '80s as Disney's "dark period."
The King and Queen Die in 'Frozen' (2013) "Do you wanna build a snowman?" No? Why? Oh, you're still crying from this scene, too. Glad it's not just us. It's not so much the fact that Anna and Elsa's parents died a tragic death (that's par for the course in Disney films), but the fact that Anna desperately wanted comfort from her sister and didn't get it.
The Incinerator Scene in 'Toy Story 3' (2010) There's no way a PG-rated animated film about toys coming to life is going to include a scene where said toys die a horrific, flaming death in a garbage incinerator, right? "Toy Story 3" really had us going there for a minute, though. That shot of Woody, Buzz, Jessie and the rest holding hands and awaiting the inevitable is just #allthefeels brutal.
Jessie's Origin Story in 'Toy Story 2' (1999) Wanna transform a sad situation into a heart-ripping, soul-crushing moment? Then just cue up a Sarah McLachlan song. It's true for those animal shelter commercials, and it was true for this flashback scene that showcased Jessie's tragic relationship with her original owner. What? No, we're not crying again. Someone must be chopping onions...
"The Ugly Duckling" Book in 'Lilo & Stitch' (2002) In a lot of ways, this scene is pretty simple and straightforward by usual Disney standards. No one got shot by an evil hunter, or stampeded by charging wildebeests. But seeing Stitch flip through the story of the Ugly Duckling, and realize that he too was alone and unloved in the world, is enough to pierce through even the stoniest of hearts.
Saying Goodbye to Boo in 'Monsters, Inc.' (2001) The touching bond between the lumbering Sully and tiny, precocious Boo formed the heart and soul of this Pixar movie. And Pixar being Pixar, they really milked the inevitable farewell scene as much as they could. Even the knowledge that these two unlikely friends are reunited in the end does little to diminish the scene's impact.
The "Married Life" Montage in "Up" (2009) *sobs uncontrollably*
Bing Bong's Last Ride in 'Inside Out' (2015) There's nothing more bittersweet for a parent than seeing their child grow up and leave the innocence of youth behind. That's what "Inside Out" was all about, and that process was perfectly and tragically encapsulated in the "death" of Riley's forgotten imaginary friend, Bing Bong, who sacrificed himself so that Joy and Sadness could complete their odyssey.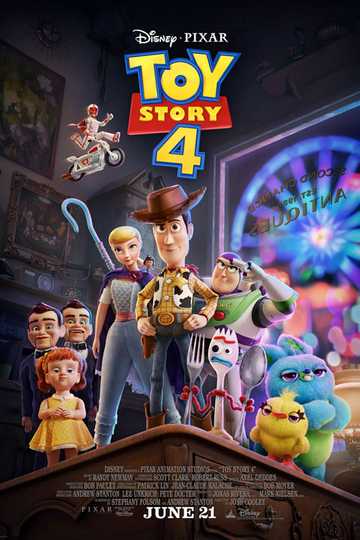 Toy Story 4
Woody has always been confident about his place in the world and that his priority is taking care of his kid, whether that's Andy or Bonnie. But when Bonnie adds a reluctant new toy called "Forky" to her... Read More