"Angel Has Fallen," the third chapter in the action franchise starring Gerard Butler as a Secret Service agent, had a stronger opening weekend than expected, collecting $21.25 million during its first three days of release.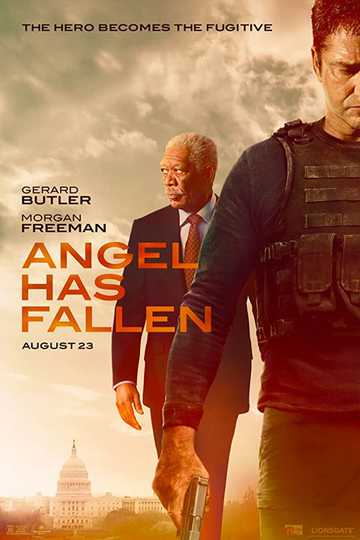 Angel Has Fallen
"Loyalty is under fire"
After a treacherous attack, Secret Service agent Mike Banning is charged with attempting to assassinate President Trumbull. Chased by his own colleagues and the...Read More
It's Lionsgate's second biggest film this year after "John Wick: Chapter 3 -- Parabellum."
The film, in which Butler's character must clear his name after being blamed for an attack on the President, nearly matched the $21.6 million debut of its predecessor, 2016's "London Has Fallen." The first film "Olympus Has Fallen,"debuted with $30.4 million in 2013.
Audiences gave "Angel Has Fallen" a glowing "A-" CinemaScore compared to its 40% average from critics on Rotten Tomatoes.
Last weekend's champ, the comedy "Good Boys," ended up in second place. It earned $11.75 million in its sophomore outing, boosting its domestic total to $41.4 million.
Faith-based sports drama "Overcomer" debuted in third with $8.2 million from 1,723 theaters. It earned an "A+" CinemaScore from audiences, but a dismal 38% rating from critics on Rotten Tomatoes. It's already earned back its production budget of $5 million. Overcomer
"What do you allow to define you?"
1 hr 59 min
Aug 23rd, 2019
After reluctantly agreeing to coach cross-country, high school basketball Coach John Harrison helps the least likely runner attempt the impossible in the biggest...Read More
The new film with the best reviews, the black comedy "Ready or Not," opened at No. 6, with $7.6 million for the weekend and a five-day take of  $10.6 million. Samara Weaving ("Mayhem") stars as a bride whose wedding night becomes a fight to the death with her new in-laws. It scored an 87% Rotten Tomatoes score. Audiences gave it a "B+" CinemaScore.
In limited release, crowd-pleasing comedy "Brittany Runs a Marathon" had  the best per-screen average of the weekend with a $35,194 average from five theaters for a total of $175,969. Jillian Bell of "Workaholics" and "Eastbound & Down" portrays an out-of-shape woman who decides to run the New York City Marathon. It will expand nationwide after four or five weeks.
Here are the top 10 estimates for August 23-25 2019:
1. "Angel has Fallen," $21,250,000
2. "Good Boys," $11,750,000
3. "Overcomer," $8,200,000
4."The Lion King" (2019), $8,150,000
5. "Fast & Furious Presents: Hobbs & Shaw," $8,140,000
6. "Ready or Not," $7,550,000
7. "The Angry Birds Movie 2," $6,365,000
8. "Scary Stories to Tell in the Dark," $6,000,000
9. "Dora and the Lost City of Gold," $5,200,000
10. "Once Upon a Time in Hollywood,"$5,000,000
[Via Variety]