Russell Crowe Joins Aaron Taylor-Johnson in Sony's 'Kraven the Hunter'
J.C. Chandor directs the 'Spider-Man' spin-off, which will feature one of his best-known enemies.
Up until a few years ago, we'd have been more surprised to report that the Russell Crowe of today had signed up to co-star in a superhero movie. But following his work with Zack Snyder's 'Man of Steel'/'Justice League' films and having taken a role in the upcoming 'Thor: Love and Thunder', we're not so shocked to learn that he'll be part of the cast for Sony's 'Kraven the Hunter.'
This represents another attempt by the studio to expand its Spider-universe of movies, though a film focusing on Kraven has been in the works for a while now. 'Triple Frontier' and 'A Most Violent Year' director J.C. Chandor has been attached for a couple of years and in May of 2021, Aaron Taylor-Johnson stepped aboard to play the title character.
The character of Kraven the Hunter, born Sergei Kravinoff, is a big-game hunter who likes to take down his prey with his bare hands. Kraven meets a witch doctor who gives him a potion that enhances his senses and powers and slows down the aging process. To prove himself as the world's greatest hunter, Kraven wants to take down Spider-Man.
First dreamt up by Spidey co-creators Stan Lee and Steve Ditko, Kraven made his debut in the pages of 1964's 'The Amazing Spider-Man No. 15,' and has made numerous appearances in Marvel Comics titles since then. His most famous storyline might be classic 1980s tale 'Kraven's Last Hunt,' in which the villain succeeded in defeating Spider-Man, burying him alive, and assuming his identity.
The Hollywood Reporter's story on Crowe's casting makes no mention of whether Tom Holland's Peter Parker might appear in the film, and for now, we can assume it'll be focused on Kraven. The exact plot, written in different drafts by 'Iron Man' duo Art Marcum & Matt Holloway and 'The Equalizer's Richard Wenk, is being kept locked away for now, as is par for the course with movies like this.
And indeed, 'Spider-Man: No Way Home' was at one point potentially going to feature the character if the multiverse story hadn't come together. Tom Holland told Collider last December that director Jon Watts had a taker on the idea. "For a long time, there was going to be a Kraven movie that was going to be the third movie because things weren't working out and all sorts of different stuff. Jon pitched me this Kraven movie, which actually was really cool. I don't want to talk about it in case that movie ends up happening down the line, but it was fun."
Given that Kraven was hinted at among the shadows of characters glimpsed in the multiverse rift at the end of 'No Way Home', you know Sony is aiming to have the characters meet down the line. For now, we don't know who Crowe will be playing, though several characters are reportedly members of Kraven's family, and we can certainly see him as a tough dad.
Crowe, as mentioned, has 'Thor: Love and Thunder' due in theaters on July 8 this year.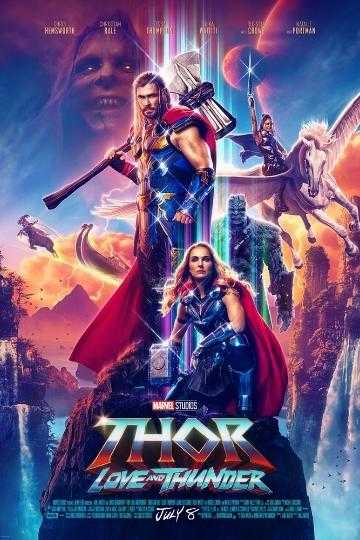 "The one is not the only."
Showtimes & Tickets
After his retirement is interrupted by Gorr the God Butcher, a galactic killer who seeks the extinction of the gods, Thor enlists the help of King Valkyrie, Korg,... Read the Plot
'Kraven the Hunter' is currently targeting a January 13, 2023 release. Sergei Kravinoff is a big game hunter, who takes a magical serum giving him superhuman abilities and a longer life. Read the Plot