'13 Going on 30' to Become a Broadway Musical
First "Mean Girls" got the official green light to head to the stage, and now, fellow 2004 comedy "13 Going on 30" is also set to become a musical.
Deadline reports that the Jennifer Garner and Mark Ruffalo-starring rom-com will get a Broadway adaptation, produced by industry veterans Andy Fickman ("Heathers: The Musical," "Reefer Madness: The Musical"), Dean Stolber (the musical versions of "Legally Blonde" and "Priscilla, Queen Of The Desert"), and Todd Garner (who produced the "13 Going on 30" movie). Fickman will direct the show, from a book by the film's screenwriters, Josh Goldsmith and Cathy Yuspa.
Music and lyrics will be penned by Alan Zachary and Michael Weiner (who previously collaborated on Broadway musical "First Date"). And according to Deadline, there's been discussion about licensing some '80s hits that appear in the flick (including "Thriller" and "Love Is a Battlefield," which anchor some memorable scenes) alongside writing original tunes.
"13 Going on 30" followed the adventures of Jenna (Garner), who begins the film as an awkward 13-year-old who yearns to be glamorous and popular. Thanks to some magic dust, her wish to become "thirty, flirty, and thriving" comes true, and she's suddenly transported into the adult world (and an adult body), where she's a high-powered magazine editor. She soon learns, though, that she gave up her childhood BFF Matt (Ruffalo) for a chance to join an exclusive clique.
The film is anchored by Garner's energetic, effervescent performance, and whoever lands the role of Jenna will have some big shoes to fill. But as Fickman explains to Deadline, the movie "has all the elements of a great musical: comedy, romance, an empowering message — and a touch of magic." So it seems the project will certainly make a natural fit for the Great White Way. Stay tuned to see how this one progresses.
[via: Deadline]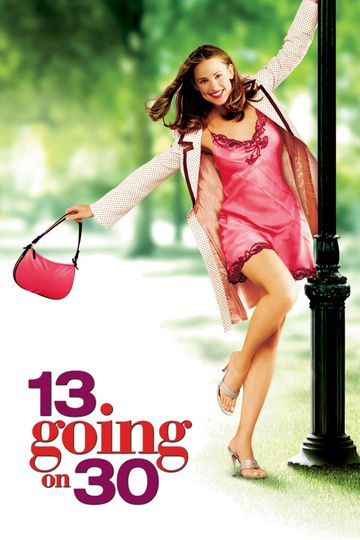 "For some, 13 feels like it was just yesterday. For Jenna, it was."
1 hr 38 min
Apr 13th, 2004
After total humiliation at her thirteenth birthday party, Jenna Rink wants to just hide until she's thirty. With a little magic, her wish is granted, but it turns... Read the Plot