2019 Telluride Film Festival Lineup Includes 'Ford V Ferrari,' 'Judy'
The mountains of Telluride will be full of stars over Labor Day weekend.
The 46th annual Telluride Film Festival unveiled its lineup and it includes buzzy projects likely to be awards season contenders.
James Mangold's racing drama "Ford v Ferrari," starring Matt Damon and Christian Bale, will have its world premiere. So will "Judy," featuring Renee Zellweger as the legendary Judy Garland. Zellweger herself will receive a festival tribute.
Also making their world premieres at Telluride is "Motherless Brooklyn" from writer/director/star Edward Norton and "The Aeronauts," which reteams "Theory of Everything" stars Eddie Redmayne and Felicity Jones.
Telluride's full line-up is below:
A Hidden Life (Terrence Malick, U.S.-Germany, 2019)
Beanpole (Kantemir Balagov, Russia, 2019)
Coup 53 (Taghi Amirani, U.K., 2019)
Diego Maradona (Asif Kapadia, U.K., 2019)
Judy (Rupert Goold, U.K.-U.S, 2019)
Family Romance (Werner Herzog, U.S.-Japan, 2019)
First Cow (Kelly Reichardt, U.S., 2019)
Ford v. Ferrari (James Mangold, U.S., 2019)
The Kingmaker (Lauren Greenfield, U.S., 2019)
Lyrebird (Dan Friedkin, U.S., 2019)
Marriage Story (Noah Baumbach, U.S., 2019)
Motherless Brooklyn (Edward Norton, U.S., 2019)
Oliver Sacks: His Own Life (Ric Burns, U.S., 2018)
Pain and Glory (Pedro Almodovar, Spain, 2019)
Parasite (Bong Joon-Ho, South Korea, 2019)
Portrait of a Lady on Fire (Celine Sciamma, France, 2019)
Tell Me Who I Am (Ed Perkins, U.K., 2019)
The Aeronauts (Tom Harper, U.S-U.K., 2019)
The Assistant Kitty Green, U.S., 2019)
The Australian Dream (Daniel Gordon, Australia, 2019)
The Climb (Michael Angelo Covino, U.S., 2019)
The Human Factor (Dror Moreh, U.K., 2019)
The Report (Scott Z. Burns, U.S., 2019)
The Two Popes (Fernando Merirelles, U.K., 2019)
Those Who Remained (Barnabas Toth, Hungary, 2019)
Uncut Gems (Josh and Benny Safdie, U.S., 2019)
Varda by Agnes (Agnes Varda, France, 2019)
Verdict (Raymund Ribay Gutierrez, Philippines, 2019)
Waves (Trey Edward Shults, U.S., 2019)
Women Make Film (Mark Cousins, U.K., 2019) "Judy Garland: The Legend Behind the Rainbow."
1 hr 58 min
Aug 30th, 2019
Winter 1968 and showbiz legend Judy Garland arrives in Swinging London to perform a five-week sold-out run at The Talk of the Town. It is 30 years since she shot... Read the Plot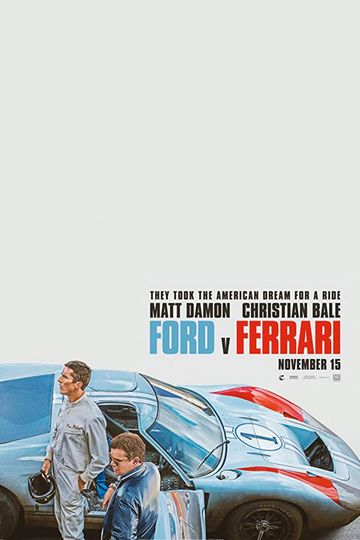 "They took the American dream for a ride"
2 hr 33 min
Nov 15th, 2019
American car designer Carroll Shelby and the British-born driver Ken Miles work together to battle corporate interference, the laws of physics, and their own personal... Read the Plot