Robert De Niro and Sebastian Maniscalco Talk Comedy 'About My Father'
Moviefone speaks with Robert De Niro and Sebastian Maniscalco for 'About My Father.' "I read it and I said, there's a way of having fun with this,' De Niro said.
Opening in theaters on May 26th is the new comedy 'About My Father,' which was written by comedian Sebastian Maniscalco and loosely based on his own life.
What is the plot of 'About My Father?'
Directed by Laura Terruso ('Work It'), 'About My Father' centers around Sebastian Maniscalco (played by himself), who is encouraged by his fiancée (Leslie Bibb) to bring his immigrant, hairdresser father, Salvo (Robert De Niro), to a weekend get-together with her super-rich and exceedingly eccentric family (Kim Cattrall, David Rasche, Anders Holm, and Brett Dier). The weekend develops into what can only be described as a culture clash, leaving Sebastian and Salvo to discover that the great thing about family is everything about family.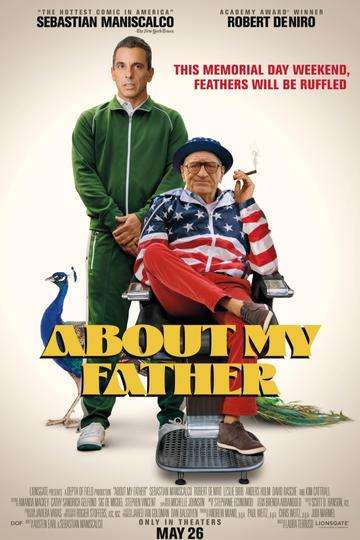 "Feathers will be ruffled."
1 hr 30 min
May 26th, 2023
Showtimes & Tickets
The hottest comic in America, Sebastian Maniscalco joins forces with legendary Italian-American and two-time Oscar® winner, Robert De Niro (Best Actor, Raging Bull,... Read the Plot
Who is in the cast of 'About My Father?'
Directed by Laura Terruso ('Work It'), 'About My Father' stars Sebastian Maniscalco ('The Irishman') as himself, Robert De Niro ('Goodfellas,' 'Meet the Parents') as Salvo Maniscalco, Leslie Bibb ('Iron Man') as Ellie, Kim Cattrall ('Sex and the City') as Tigger Collins, David Rasche ('Burn After Reading') as Bill Collins, Anders Holm ('The Muppets Mayhem') as Lucky Collins, and Brett Dier ('Fresh') as Doug Collins.
Moviefone recently had the pleasure of traveling to Chicago, Illinois to speak in-person with Robert De Niro and Sebastian Maniscalco about their work on 'About My Father,' Maniscalco's process of writing the screenplay, why De Niro wanted to play Salvo, the Oscar winner's process, and if Sebastian was nervous about De Niro meeting his real-life father.
You can read the full interview below or click on the video player above to watch our interviews with De Niro, Maniscalco, Leslie Bibb, Kim Cattrall, David Rasche, Anders Holm, Brett Dier, and director Laura Terruso.
Moviefone: To begin with, Sebastian, can you talk about writing the screenplay, the inspiration you took from own relationship with your father, and what the process was like for you bringing this story to the big screen?
Sebastian Maniscalco: So Austin Earl, who's the co-writer, who really wrote a lot of the dialogue, I gave him the characters, what they would do and how they would do it. He really put it together and wrote some really fantastic scenes. So the characters are inspired from a culmination of different people and then we gave them different characteristics in each character. Austin really came up with some fantastic scenes. I provided the character detail, what they would say and how they would say it, and he wrote the dialogue. Just extracting the relationship that I have with my father and then paralleling that into a film, that was kind of the inspiration of writing the script. I wanted to tell a story about my relationship with my dad and also meeting my wife's side of the family, and I just thought that was a good playground for comedy.
MF: Mr. De Niro, what was your first reaction to Sebastian's screenplay and what were some of the aspects of the character that you were really excited to explore on screen?
Robert De Niro:Paul Weitz sent me the script. Paul had directed me in two movies and he was producing this. I read it and then I said, "Can we have a reading of it?" Which I do a lot just to, as I like to say, see if it's lifted off the page a little. So we get a bunch of actors, not the actors who would be in it, but just actors who would want to read for the sake of it and help us. I met (director) Laura Terruso, and I liked her and she's from that world. Both her parents are from Italy. Sebastian, his father, meeting him and all that, it all had a good foundation. So after the reading, I pretty much said, "Yeah, it's good for me. I'd like to do it."
MF: What was it like meeting with Sebastian's father Salvo, and how did that help you prepare for this role?
Robert De Niro: Well, Salvo, I saw through the script, through his eyes what he was, and then I met him. He was different with me, obviously but I still had questions for him about the script and so on. I liked him and I knew that there's a lot of stuff we could do together, what's written and also what's not written. But there would be room since he knows the world, I know the world, and Laura does. There's a way of having fun with this. So it was all good.
MF: Finally, Sebastian, were you nervous about working with Mr. De Niro, starring in the film, or making such a personal movie?
Sebastian Maniscalco: Yeah, I was nervous doing the movie. I was nervous during this whole process. A lot of anxiety, just questioning whether or not I could pull this off, memorizing lines, which I also found extremely difficult. I mean, I'm 50 this year and I'm like, man, it don't come as fast as it used to. In my twenties, a script, give me the thing. Now I'm sitting there, okay, is this in there? I got to go over it, over and over again. So a lot of different new experiences for me in this whole process. But now that it's over and I saw it, I was like, oh wow. Because during the thing, you don't know what's going on. Then when you see it all put together, you're like, oh yeah. No, it's good.
Other Movies Similar to 'About My Father:'
'About My Father' was produced by Lionsgate, and Depth of Field, and opens in theaters on May 26th.