'Annihilation' Earns Raves From Early Reactions: It's 'One Hell of a Mindf*ck'
"Annihilation" is being called a sci-fi masterpiece you'll still be processing long after the credits roll.
Critics got a sneak peek before the film's release on February 23, and they were deeply impressed.
This shouldn't be a surprise to anyone familiar with author Jeff VanderMeer's Southern Reach Trilogy + Alex Garland's history as a brilliant sci-fi writer ("28 Days Later," "Sunshine") and writer/director ("Ex Machina").
Garland both directed and wrote the screenplay for "Annihilation," which stars Natalie Portman, Jennifer Jason Leigh, Gina Rodriguez, Tessa Thompson, and Oscar Isaac.
Without delving into the movie's plot at all, just check out some of the first reactions:
Make no mistake, #Annihilation is a new sci-fi classic. Brilliant, thrilling, and provocative, it has as much metaphoric depth as it does narrative tension. I'm floored. pic.twitter.com/o2taDg2Z7L

— Drew Taylor (@DrewTailored) February 8, 2018
#ANNIHILATION: This is the type of sci-if we always say we want to see. Bold, challenging, singular, visually dazzling. Would not be the least bit surprised to see it hailed as a masterpiece (and it might actually be one).

— Ben Pearson (@benpears) February 8, 2018
#Annihilation is big budget Alex Garland with all the head-spinning intelligence of "Ex Machina." It's violent and patient and then suddenly so transfixing you're pinned to your seat.

It'll take time to process. Another auteur studio gamble from Paramoint after "mother!"

— Zack Sharf (@ZSharf) February 8, 2018
This much is clear: #Annihilation is NOT the movie you walk out and take to Twitter for a quick opinion. It's grabs you hard and leaves you frazzled. Hats off to Paramount for letting Garland be himself on a bigger budget https://t.co/1nkKEmuPkF

— Zack Sharf (@ZSharf) February 8, 2018
Annihilation was like The Thing meets 2001: A Space Odyssey. It was creepy, unsettling and beautiful.

— Steve Zaragoza of The Valleyfolk (@stevezaragoza) February 14, 2018
Alex Garland is 2 for 2. I don't want to say too much because you should see #Annihilation knowing as little as you can but I'm blown away by his script and filmmaking. Wish I could watch it again tomorrow. pic.twitter.com/6A6sQl1QPD

— Steven Weintraub (@colliderfrosty) February 10, 2018
ANNHILATION is, in wholly inelegant terms, one hell of a mindfuck. Most of the time, I didn't want it to end; occasionally, I was so unsettled I thought I might keel over.

— Kate Erbland (@katerbland) February 8, 2018
Alex Garland's #Annihilation is another example of the kind of brainy sci-fi we don't see enough of. Badass female cast and a story that's both beautiful and wickedly disturbing, and an ending you will talk about for days. Dug it so much pic.twitter.com/fW77z6xX4v

— ErikDavis (@ErikDavis) February 8, 2018
Alex Garland's #Annihilation is absolutely phenomenal. It's gorgeous and mesmerizing, with brilliant performances from the entire ensemble. It's a remarkable vision, and has a sequence so thrilling that I was left literally dizzy. It will be on my Top 10 of 2018 without question. pic.twitter.com/zGmDGlyh0M

— Eric Eisenberg (@eeisenberg) February 8, 2018
Just saw #Annihilation, and damn, it's gorgeous. Beautifully done, riveting and smart. Going to need to process this one for a while, and I want to see it again! pic.twitter.com/rFl5cnacon

— Jenna Busch (@JennaBusch) February 8, 2018

Well, you can't ask for much more than that. If you're curious about the source material, consider checking out VanderMeer's 2014 novel series, starting with "Annihilation" and continuing with "Authority" and "Acceptance." The film version of "Annihilation" opens in theaters Friday, February 23.
Want more stuff like this? Like us on Facebook.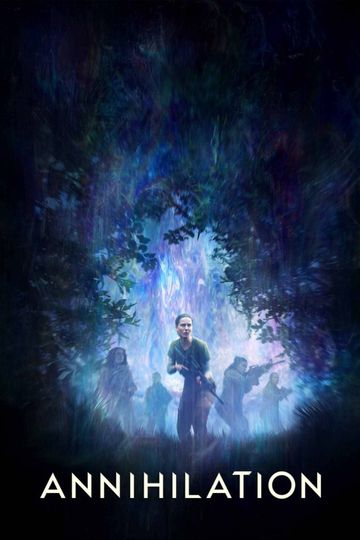 "Fear what's inside."
1 hr 55 min
Feb 23rd, 2018
A biologist signs up for a dangerous, secret expedition into a mysterious zone where the laws of nature don't apply. Read the Plot