Katy O'Brian Talks 'Ant-Man and the Wasp: Quantumania' Blu-Ray and DVD
Moviefone speaks with Katy O'Brian about 'Ant-Man and the Wasp: Quantumania.' "I wanted to be in a Marvel movie and they welcome you with open arms."
Now available on digital, and available on 4K Ultra HD, Blu-ray and DVD beginning May 16th is 'Ant-Man and the Wasp: Quantumania,' which is the third film in the 'Ant-Man' franchise, and the first movie to be released in Marvel's Phase 5.
What is the Plot of 'Ant-Man and the Wasp: Quantumania?'
Once again directed by Peyton Reed ('Ant-Man and the Wasp'), the plot 'Ant-Man and the Wasp: Quantumania' revolves around Scott Lang (Paul Rudd) and Hope van Dyne (Evangeline Lilly), along with Hope's parents, Hank Pym (Michael Douglas) and Janet van Dyne (Michelle Pfeiffer), and Lang's daughter, Cassie (Kathryn Newton), going on a new adventure exploring the Quantum Realm that pits them against a new and powerful villain, Kang the Conqueror (Jonathan Majors).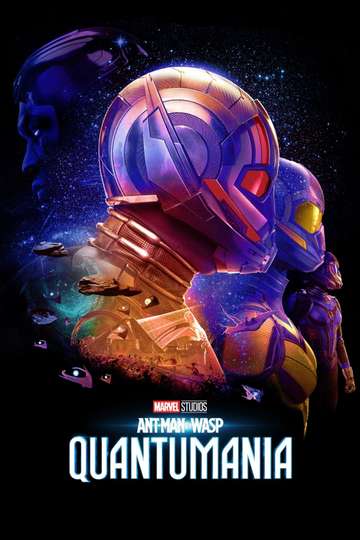 Who is in the Cast of 'Ant-Man and the Wasp: Quantumania?'
The cast of 'Ant-Man and the Wasp: Quantumania' includes returning MCU actors Paul Rudd ('Avengers: Endgame') as Scott Lang/Ant-Man, Evangeline Lilly ('Real Steel') as Hope Van Dyne/Wasp, Michelle Pfeiffer ('Batman Returns') as Janet Van Dyne/Wasp, Michael Douglas ('Basic Instinct') as Dr. Hank Pym, and Randall Park ('Aquaman') as Jimmy Woo, as well as Kathryn Newton ('Freaky') joining the series as an older version of Cassie Lang, Jonathan Majors ('Creed III') as Kang the Conqueror – a variant of his 'Loki' character He Who Remains, Katy O'Brian ('The Mandalorian') as Jentorra, and Bill Murray ('Ghostbusters') as Krylar.
Moviefone recently had the pleasure of speaking with actress Katy O'Brian about her work on 'Ant-Man and the Wasp: Quantumania,' joining the MCU, creating her character, researching Jentorra in the comics, her deleted scene with Bill Murray, working with Paul Rudd, being directed by Peyton Reed, fighting Kang the Conqueror, and where in the Marvel Cinematic Universe Jentorra will appear next.
You can read the full transcript below or click on the video player above to watch the interview.
Moviefone: To begin with, you've appeared in a DC project with 'Black Lightening,' a 'Star Wars' project with 'The Mandalorian,' and even Marvel's 'Agents of S.H.I.E.L.D.,' but 'Ant-Man and the Wasp: Quantumania' marks your first time working in the Marvel Cinematic Universe, so what was it like for you to officially join the MCU with this movie?
Katy O'Brian: I wanted to be in a Marvel movie. I think a lot of actors, that's like a big goal. So the fact that I even got an audition I was excited about and having booked it just seemed completely unreal. Every moment was awesome. It's huge scenery, and a huge project. It's the end of the world every time and it was great. I felt like everyone was really welcoming coming in the third part of the franchise. Paul was super great to work with, really welcoming, just really unassuming and lets you drop your guard really quickly. It was just Peyton Reed, the director, he's phenomenal. He's so sweet. So it really just felt like I was walking onto the set, walking into a family basically, and they welcome you with open arms.
MF: Can you talk about creating Jentorra? She only appeared in a few comics, but did you research her Marvel history to give you a better understanding of her backstory?
KO: I mean, when I'd spoken to Peyton, he pretty much said it's not really going the comic route at all for Jentorra. Just by appearance alone, it was pretty obvious, you know? I'm not green, and I'm not blonde. They don't really bring much of her magic into it or anything like that. So right off the bat he was saying more barbarian, like 'Red Sonja', having a really strong, powerful presence. What I love to add to characters is give them a little something that isn't your super stereotypical warrior person. So I wanted also to have someone who deeply cared, genuinely cared, on an emotional level, and wasn't afraid to be emotional with her people. Up until I saw the full hair, makeup, wardrobe, my staff, I was questioning how I'm supposed to play this character. I'm like the only straight character in a comedic world. So I felt like really out of place, and I was so worried I'd be boring and all these other things. But the second I saw the uniform, got covered in the dirt, grime, sweat and goo, and then got the magic staff in my hand, just everything clicked and it just felt right.
MF: There are a few deleted scenes on the Blu-ray and DVD, but I understand that you also shot a deleted scene with Bill Murray that did not make the home entertainment release. Can you talk about shooting that and what happens in the scene?
KO: We had a whole section of, basically, it would've added quite a bit of time to the movie. But he didn't originally get killed or whatever happened. We had a whole spaceship pursuit with him, and he wound up with Kang and M.O.D.O.K. (Corey Stoll) and then was taken to a cell as well. So when I was freeing the rest of my people, he was there, had some witty quips, and then we all go off together. So I mean, that was pretty much the majority of that. Just some cool jail time and maybe not as much respect for my character as he was pretending to have for himself. Then just other things that might have gotten deleted on my end. I just think a couple little fight clips and stuff. We had a moment at the end where I was fighting and the ants show up, and I have a very brief interaction with the ants and I'm just like, what in the world's going on? So just some little things like that that I'm sure were just cut for time. I mean in reality it is a bunch of really big beefy stunt dudes in green suit running around tackling people. So it was really fun to be a part of.
MF: Can you talk about working with Paul Rudd on set?
KO: It's interesting that my interactions with him generally, it was pretty serious all in all. That's where he started to realize the situation that he wound up in. So there was some offset jokes and every now and then he would just carry a scene after we were done, or if someone messed up, just keep going with that. But honestly, the person it was hardest to keep a straight face with was Kathryn Newton because her character was supposed to be, I guess, in awe of my character. So every time her mouth is wide open, her eyes are wide open and just looks so ridiculous that I couldn't keep a straight face.
MF: What was it like being directed by Peyton Reed and walking on to the incredible Quantum Realm sets he created?
KO: He designed all of these wonderful sets, and it was like you didn't really have to pretend you were transported into this world. Super small details were added. We had real dirt under our feet, and at certain times we had actual flames going up and had to dive around fire. It really felt larger than life and the set was massive. They're just absolutely massive. So you had a lot of space to move around in, and I think Peyton did an amazing job bringing that world to life, but also showing how big it was, but just managing the time, using the space, taking the same space, and making it look completely different. It was awesome.
MF: Can you talk about Jentorra's war against Kang the Conqueror?
KO: I don't think that she acknowledges Kang as someone who runs the Quantum Realm. I think she acknowledges, he is basically using their energy source, their land and their people for his means, but against their best interests. I think it's a pretty understandable point of view of you've destroyed my world, you've destroyed the world of all of these people and only for your specific gain. He has no friends. He has no equals. It's a very, very selfish viewpoint. I don't think they ever had a sit down and chat of like, "Hey, why are you doing this?" It was just very clearly, your reasons do not align with mine. So I think obviously he is a good villain in that sense that there's no redemption to him. And you got M.O.D.O.K. who comes in and terrorizes the village. It's funny because we had to be scared of him, but when you see him, he looks absolutely ridiculous. So I was just like, are you serious? I got to be afraid of this thing. But you think of something that just rolls through your village and kills half of them in one sweep. That's pretty terrifying all in all. So she's got a lot on her plate and a lot to overcome. But the thing with Jentorra, unlike Kang, is she's got heart with her. She's got people that actually care about the cause, their land, their friends and family. So I think she's got a good backing because she's not alone.
MF: Finally, where do you think Marvel fans will see Jentorra next?
KO: It's so interesting because the thing about the Quantum Realm is that it is outside of space and time, so with the whole multiverse thing, I almost wonder the only way that she would really be able to interact is if they start pushing more people into the Quantum Realm, which she wouldn't be too happy about and is probably now ruled by ants. Or maybe someone somehow pulled her out. Then I was joking on the internet that I think a great multiverse Jentorra would be Danny DeVito. I don't know. I think it'd be really fun to see. But yeah, I just think anything's possible. She could show up anywhere and I would love to see her come back again.
Other Movies Similar to 'Ant-Man and the Wasp: Quantumania:'
'Ant-Man and the Wasp: Quantumania' is produced by Marvel Studios, and Kevin Feige Productions. It is available now on digital, and available on 4K Ultra HD, Blu-ray and DVD beginning May 16th.