5 Reasons Why 'The Post' and 'The Commuter' Kicked Ass at the Box Office
"The Commuter" was supposed to be on a train to nowhere this Martin Luther King Day weekend.
Weak reviews and a pile-up of competition from two new wide releases ("Proud Mary" and "Paddington 2") and one newly-wide holdover (the now-nationwide "The Post") were supposed to derail the new Liam Neeson thriller, or at least keep it from debuting above $10 million.
As it turned out, however, "Commuter" saw an unexpected fare bump, to about $13.5 million from Friday to Sunday, good for a third-place opening. "The Post" did even better, expanding from 36 theaters to 2,819 and coming in second with an estimated $18.6 million for the three-day weekend. Meanwhile, "Proud Mary" and "Paddington 2," both expected to premiere in the mid-teens, barely cracked $10 million apiece and debuted in a virtual tie for seventh place.
What are the lessons of this weekend at the box office, aside from "Never count out Liam Neeson"? Here are five takeaways.
1. It's a Good to Be an Adult Moviegoer The December holidays are over, kids are back in school, and awards-season movies are out in force. So this is the rare time of year that mature adults may feel welcome at the multiplex. They also make up the core of Neeson's audience, which is why he's released so many thrillers in January and February over the last decade, from "Taken" and "The Grey" through "Non-Stop" and "Taken 3."
You can also credit the older audience for the success of "The Post." It's those viewers who are still big fans of sixtysomethings Meryl Streep and Tom Hanks, and who maybe even remember the 1971 Pentagon Papers battle that the movie chronicles. And "Proud Mary," whose poster made it look like an old Pam Grier movie, also seemed to target more mature ticketbuyers, though it also may have proved that even the older audience is still finite. Which reminds us...
2. "Jumanji: Welcome to the Jungle" Is Still Unstoppable
It's not nostalgia among older moviegoers for the 1995 Robin Williams adventure that's driving sales for the youth-oriented, video game-themed reboot. Dwayne Johnson's action comedy was the weekend's top film for the second time in a row, declining just 27 percent from last weekend for a three-day take estimated at $27.0 million.
In its fourth week, it's already earned $283.2 million, making it Sony's sixth biggest domestic hit of all time. By next week, it will have overtaken "Skyfall" to become Sony's top-grossing movie outside of the "Spider-Man" franchise. It's not like there aren't lots of other action alternatives in theaters (including a little movie called "Star Wars: The Last Jedi, currently in sixth place with a weekend take estimated at $11.3 million). But "Jumanji" is the one the kids like.
3. Is Taraji P. Henson a Movie Star? Jury's still out. Last January, she seemed to be, leading the cast of the hit "Hidden Figures." Does the estimated $10.0 million premiere of "Proud Mary" mean that "Figures" was a fluke, or that moviegoers would rather see Henson solving math problems than kicking ass as an action anti-heroine?
Not necessarily. Sony's Screen Gems division barely marketed the movie and didn't even screen it for critics. That's never a good sign, at least not to critics, whose support is important for movies that cater to older viewers. Especially during a month when those older viewers have plenty of other options at the multiplex. Maybe "Proud Mary" would have done better had it opened at another time, or been more aggressively marketed. Or maybe Henson should just consider herself lucky that TV audiences have embraced her as Cookie on "Empire."
4. Everyone Loves Paddington (Overseas, That Is)
Marketing was an issue for the kid-movie sequel, too. 2015's "Paddington" did pretty well in North America, grossing $76.3 million. The lovable bear's sequel has unanimous support from critics, so why did it tank?
The movie was hastily sold to Warner Bros. -- after original distributor, TWC, suffered their Weinstein scandal. Warners had just two months to come up with a wide-release distribution and marketing plan. Apparently, that wasn't enough time. Besides, "Paddington 2" was trying to compete in a marketplace where "Jumanji," "Star Wars," and "Coco" are still vying for kids' attention and ticket dollars. Perhaps this bear should have hibernated a few months longer.
5. What Golden Globes Boost Did Winners Receive at the Box Office? Seems like the only one riding a victory at last Sunday's awards show to greater glory is Oprah.
"Three Billboards Outside Ebbing, Missouri" may have been the big trophy winner, but even though it went back into wide release this weekend in its 10th week and grabbed another estimated $2.3 million, it's still way down on the box office chart at No. 16. And that's a healthy increase in business compared to fellow Globe winners "Lady Bird" and "I, Tonya," which saw more modest increases. Or "Darkest Hour," which actually slipped 25 percent from last week. Contrast that with "The Post," which raked it in despite being shut out at the Globes.
By the way, check out "All the Money in the World," which also earned some Globe nominations but no prizes. The movie has generated a ton of buzz, first for replacing the disgraced Kevin Spacey at the last minute with Christopher Plummer, then for adding $10 million to its $40 million cost for those last-minute reshoots, and finally, for the seemingly gender-based pay gap between star Michelle Williams, who did the reshoots for union scale wages, and supporting actor Mark Wahlberg, who took home $1.5 million for his overtime work.
Both stars are represented by the same talent agency, WME, and on Saturday, Wahlberg announced he was donating his fee in Williams' name to Time's Up, the newly-created initiative to fight systemic sexism in Hollywood, while WME was donating $500,000 of its own to the activists.
Despite all those headlines, the movie has made back just $23 million of its $50 million cost after three weeks in release. This weekend, it made just an estimated $1.2 million, down 67 percent from a week ago, for a 19th-place finish and a per-screen average of just $827, meaning just a handful of tickets sold at each screening. With a CinemaScore grade of just a B, it's clear that audiences aren't anywhere near as enthusiastic about the drama as critics, awards voters, or entertainment journalists are.
It's a good lesson that, for all the current discourse about stopping Hollywood predators, addressing gender inequities in the entertainment industry, and how awards voters should handle the movies and performers who are suddenly problematic in the post-Weinstein moral landscape, it's not clear that rank-and-file moviegoers care about any of it.
Sometimes they just want to enjoy the adrenaline rush of watching Liam Neeson, Dwayne Johnson, or even Meryl Streep do something heroic.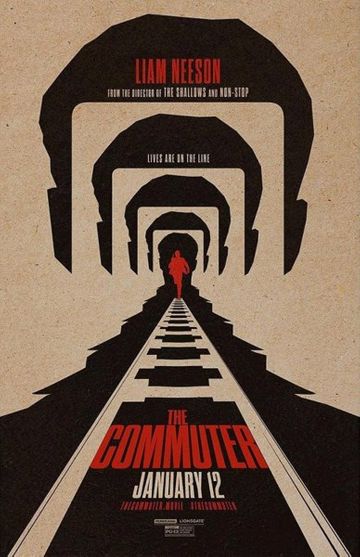 "Lives are on the line"
1 hr 44 min
Jan 12th, 2018
A businessman, on his daily commute home, gets unwittingly caught up in a criminal conspiracy that threatens not only his life but the lives of those around him. Read the Plot