'Bridesmaids': 10 Things You (Probably) Didn't Know About the Hit Comedy
You can pinpoint the moment almost precisely when "Bridesmaids" changed comedy.
Upon the movie's release five years ago this week (on May 13, 2011), it was that one notorious food-poisoning scene -- you know the one -- that proved that an all-female ensemble comedy could be just as raunchy and hilarious and heartfelt as any of producer Judd Apatow's bro-centric comedies. The result turned Melissa McCarthy into a breakout star, gave career boosts to costar/co-writer/co-producer Kristen Wiig and director Paul Feig, and launched a wave of hit R-rated comedies starring women.
Still, as many times as you've watched the misadventures of Wiig's moody maid of honor, there's plenty you may not know about how the story came together, who almost starred in it, and which scenes were left out.
1. "Bridesmaids" came about because of Wiig's cameo as a hostile TV producer in Apatow's "Knocked Up." The director urged her to write a screenplay as a vehicle for herself to star in and offered to produce it.
2. Wiig and writing partner Saturday Night Live." She'd fly to Los Angeles, improvise scenes with Mumolo during marathon 12-hour sessions, then return to New York.
3. Mindy Kaling and Rose Byrne both tried out for the role of the bride, Lillian, before it ultimately went to fellow "SNL" vet Maya Rudolph. Byrne got the role she preferred, Helen, the bitchy rival to Wiig's Annie.
4. Future "Pitch Perfect" star Rebel Wilson auditioned for Megan, and while that role ultimately went to McCarthy, the filmmakers liked the Australian actress enough to cast her as Brynn, Annie's eccentric roommate. This was Wilson's first big Hollywood role. Busy Philipps, who'd co-starred on Feig and Apatow's TV show, "Freaks and Geeks," also auditioned to play Megan.
5. Byrne, the only one of the six stars who didn't have an improvisational comedy background, had a hard time not cracking up on the set. She also proved the odd woman out when Wiig and Mumolo took the cast to a male strip club as a research trip/bonding experience. Wiig noted that Byrne was uneasy when the others bought her a lap dance. Byrne squirmed as the oily dancer got grease all over her expensive blouse and found herself chattering about Los Angeles traffic. "Totally unsexy," she recalled during an on-set interview. "I'm like the nerdy, frigid weirdo. But that was fun."
6. Early drafts of the script featured a bachelorette party sequence in Las Vegas, but just three weeks before shooting, producer Apatow nixed the scene, complaining that there had been too many recent movies (notably, "The Hangover") depicting similar Vegas debauchery. Over a single weekend, Wiig and Mumolo wrote the sequence featuring Wiig's mid-air freakout that keeps the wedding party from reaching Vegas. (That's Mumolo playing Wiig's anxious seatmate.) "We took something out, and we were nervous, and we ended up with something better," Mumolo recalled.
7. Other scenes that were written but not filmed included a musical number and a scene where the characters fear they've discovered Lillian's corpse but abandon the body with a sigh of relief when they realize it's a stranger. One filmed sequence that was cut for length was Annie's blind date with a man who turns out to be a rageaholic, played by no less than Paul Rudd.
8. "Bridesmaids" cost a reported $32.5 million to produce. It grossed $169.1 million in North America and a total of $288.4 million worldwide, making it the biggest live-action hit to date in the careers of its six stars, director Feig, and producer Apatow.
9. At the 2012 Oscars, "Bridesmaids" received two nominations, for Best Original Screenplay and for Best Supporting Actress, for McCarthy.
10. Early on after the film's success, Wiig announced her refusal to make a "Bridesmaids" sequel, believing there was no way to reunite the characters for a premise that would be as original and funny. For a while, Universal threatened to make a sequel without Wiig, though the studio apparently finally gave up on the idea.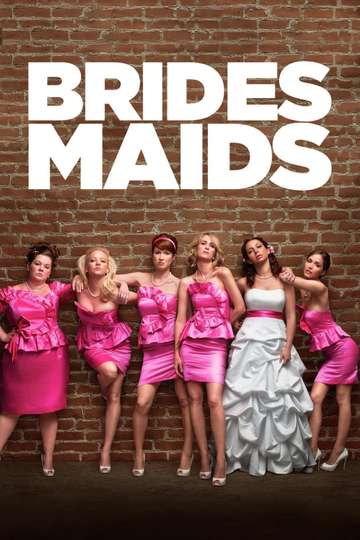 "Save the date."
Annie's life is a mess. But when she finds out her lifetime best friend is engaged, she simply must serve as Lillian's maid of honor. Though lovelorn and broke,... Read the Plot