​3 Ways 'Captain America: Civil War' Conquered the Box Office
Ho-hum, another first weekend of the summer movie season, another blowout by a Marvel Cinematic Universe movie featuring an all-star cast of superheroes.
"Captain America: Civil War" premiered with an estimated $181.8 million, boasting the fifth-largest North American opening weekend ever, the third-largest May opening ever, and the third-largest MCU debut.
If such debuts are becoming routine, you can credit the filmmakers for their execution, Marvel Studios President Kevin Feige for the grand MCU blueprint, and the well-oiled Disney machine for its marketing and distribution efforts. Indeed, they all have these mega-launches down to a science, thanks to the lessons they've learned from past releases. Among those lessons, according to Disney Executive Vice President of Distribution Dave Hollis:
1. Quality ControlOr, as Hollis put it on Sunday, "You've gotta make a really great movie." The MCU movies have been fairly consistent in quality, a status Hollis credits largely to Feige, though Feige's willingness to hire inventive filmmakers (such as Joss Whedon for the "Avengers" movies or the Russobrothers for the two most recent "Captain America" films) ought to be acknowledged as well. The important elements, Hollis said, are "a great story, fantastic characters, and extraordinary worlds, all of which must be satisfying to fans and critics." "Civil War" certainly seems to qualify, given the movie's A grade at CinemaScore (indicating very strong fan word-of-mouth) and its appeal among reviewers, as shown by a 91 percent fresh score at Rotten Tomatoes and a 75 percent score at Metacritic.
2. New CharactersCertainly, Marvel fans come to these films to see familiar faces, but they're also excited about new ones. Said Hollis, "Yes, you have to have movies that feature familiar characters, but you also have to keep this universe fresh by introducing new characters." He was particularly pleased with the eagerly-anticipated introduction in "Civil War" of Black Panther (played by Chadwick Boseman), who'll now have a much bigger fan base by the time he gets his own stand-alone movie in 2018. (Hollis did not cite the introduction in "Civil War" of Tom Holland as Spider-Man, perhaps because the forthcoming Spidey franchise reboot starring Holland will be made at Sony, outside of Disney and the MCU.) He also plugged Benedict Cumberbatch's Doctor Strange, who gets his own movie this November and will presumably loom large in future MCU movies after that.
A corollary, which Hollis didn't mention, is that "Civil War" may offer one of the last opportunities to see Robert Downey Jr. play Iron Man. Though we can still expect to see Tony Stark suit up in the upcoming Avengers "Infinity War" saga, Downey has said he doesn't expect to headline another stand-alone "Iron Man" chapter. Indeed, he told USA Today, the new "Captain America" is, as far as the actor is concerned, also his own "Iron Man 4." To the extent that fans know Downey is nearly done playing Tony Stark, that could also have driven up sales for "Civil War."
3. New GenresHollis said he was aware that critics -- and many fans -- may be getting tired of a multiplex blockbuster environment defined almost entirely by spandex-clad comic-book heroes and villains. "We're inoculated against superhero fatigue," he said, "by making movies that individually have a genre that's outside the superhero movie." For instance, he noted, the last "Captain America" installment ("The Winter Solder") was more of "an espionage film." "Guardians of the Galaxy" was more of "a space opera" than other Marvel movies have been. "And 'Ant-Man' was a heist film." He did not specify a genre for "Civil War," though after DC's "Batman v Superman: Dawn of Justice" and "Civil War," it seems like super-domestic-squabble drama is becoming a genre of its own.
One thing that did make the "Civil War" launch different from previous Marvel debuts is that the film hit the multiplex at a time when Disney already had an appeals-to-all-demographics smash still playing on more than 4,000 screens. In fact, "The Jungle Book," now in its fourth week, took second place on the weekend chart and earned another estimated $21.9 million -- roughly equal to the difference between the most optimistic analysts' projections for where "Civil War" might open (that is, around $200 million) and how much it actually earned. At the very least, with "Jungle Book" in 4,144 venues and "Captain America" in 4,226, competition must have been fierce for the relative handful of available 3D, IMAX, and premium large format screens, whose ticket surcharges can account for a sizable percentage of a movie's weekly take.
Hollis insisted that the two Disney all-ages hits didn't cannibalize each other. "It's hard to be anything but ecstatic" about a movie that opens with $181.8 million, he said, noting that MCU movies now occupy four of the top six slots among the biggest domestic opening weekends in Hollywood history. "There's always going to be competition in the marketplace. It's good for the overall ecosystem of the movie business. Both films will coexist for the next few weekends."
In other words, the more the merrier, and success breeds success. In fact, Hollis said, the box office numbers alone for "Civil War" should inspire both potential moviegoers and repeat viewers over the next few weeks as much as the movie's actual content and word-of-mouth. "The exciting thing is thinking about what is left to go," he said. "$181 million worth of U.S. box office evangelism is about to hit the streets."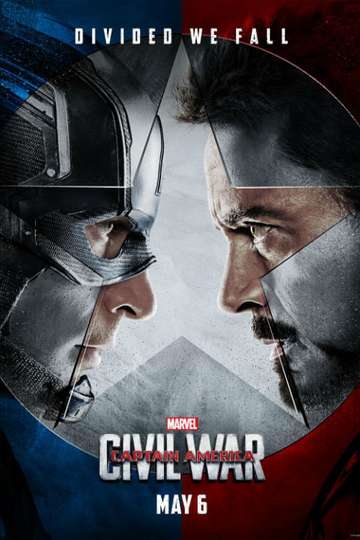 "United we stand. Divided we fall."
2 hr 27 min
Apr 12th, 2016
Following the events of Age of Ultron, the collective governments of the world pass an act designed to regulate all superhuman activity. This polarizes opinion amongst... Read the Plot