CBS Passed on Sarah Drew's 'Cagney & Lacey,' But Watch 'Grey's' Alum in New Film
We're going to miss seeing Grey's Anatomy" episode as Dr. April Kepner airs this Thursday, May 17 on ABC; we thought we'd get to see her switch over to CBS for the "Cagney & Lacey" reboot, but CBS passed on the show. So that stinks.
That said, we can still look forward to seeing more of Sarah Drew, just on the big screen this October. She both co-stars in and produced the inspirational new movie "Indivisible," which recently shared its official trailer.
"Indivisible" is "based on the true story of a decorated Army chaplain, haunted by battlefield experiences that put his marriage in jeopardy, and how this resilient family bravely fights to reintegrate with each other and for love to win out."
In addition to Sarah Drew, the drama stars Justin Bruening, Jason George, Tia Mowry, and Madeline Carroll. It opens in theaters nationwide on Friday, October 26.
Here's Sarah Drew promoting the film's trailer:
I'm super excited to share the trailer for my new film, Indivisible, which will be in theaters October 26th! I had the awesome opportunity of acting in this film and producing it as well. You'll recognize some familiar faces in the trailer! Let me know what you think!! https://t.co/YkSAk9ARIH

— Sarah Drew (@sarahdrew) May 11, 2018
One marriage, one family, under God. INDIVISIBLE is coming to theaters October 26. #IndivisibleMoviepic.twitter.com/mdtMiveOs1

— Indivisible (@indivisiblemov) May 11, 2018

That looks like the kind of faith-based film April Kepner would love, since she was Grey Sloan's resident practicing Christian. (Sniff.)
We're still hoping to see both "Grey's" vets Sarah Drew and Jessica Capshaw (Arizona Robbins) back on TV screens as soon as possible.
The "Grey's Anatomy" Season 14 finale -- including the Jo & Alex Jolex wedding _-- airs Thursday, May 17 at 8 p.m on ABC.
Want more stuff like this? Like us on Facebook.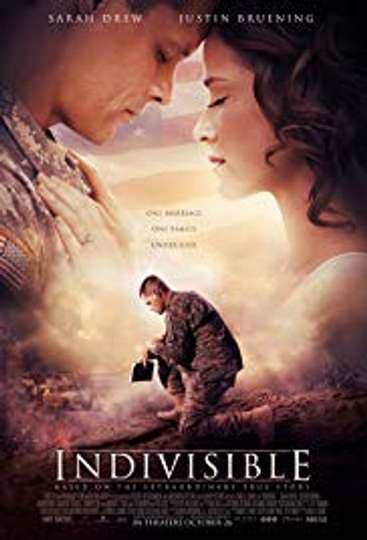 "One Marriage. One Family. Under God."
1 hr 59 min
Oct 26th, 2018
Upon returning from serving in the U.S. Army, Chaplain Darren Turner faces a crisis that shatters his Family and Faith in God but through the help of his fellow... Read the Plot