Check Out the New 'IT' Movie Poster & Scene Details
"IT" movie director Andy Muschietti showed off two scenes and a fresh trailer last night at Comic-Con, but the only thing the public can see right now is the creepy new poster.
The Stephen King adaptation opens in theaters September 8, and King himself was shown in a video message during the SDCC:
"'It' remains one of my most personal works so I'm delighted it's finally making it to the big screen. Enjoy this exclusive look... if you can."
Entertainment Weekly has a full rundown of the two scenes shown, and the trailer that will debut next week. The first scene shows the Losers Club kids diving off a cliff together, and checking out new Loser Ben's findings on the town of Derry from his trip to the library.
Ben: "Derry's not like any town I've ever been in before. They did a study once, and it turns out people die or disappear here at six times the national average."

Bev: "You read that."

Ben: "That's just grown-ups. Kids are worse. Way worse."
The second scene follows bully Henry and his toadies chasing young Mike, one of the only black people in Derry, and even though being chased by bullies is bad enough, Mike also sees Pennywise the clown watching him, waving a child's hand. The scene ends with the Losers jumping in to save Mike, welcoming him to the Losers Club.
Read a full rundown, and check out the new Comic-Con poster:
Check out the #ITMovie SDCC Exclusive Art and get it signed by the Losers' Club @ the WB Booth. Don't miss the new trailer next week #WBSDCCpic.twitter.com/QfC1hiEZxw

— IT Movie???? (@ITMovieOfficial) July 20, 2017
Kind of looks like a cross between "Stranger Things" and "The Mist." Not a bad thing. "IT" arrives in theaters on September 8.
Want more stuff like this? Like us on Facebook.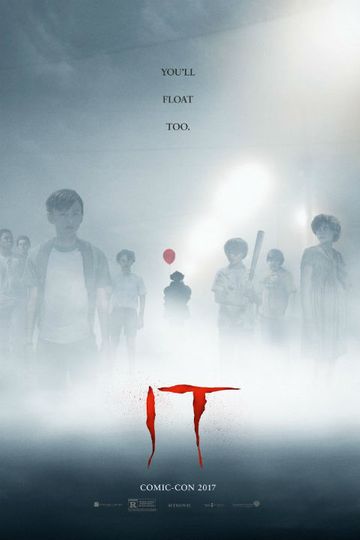 "Your fears are unleashed"
In a small town in Maine, seven children known as The Losers Club come face to face with life problems, bullies and a monster that takes the shape of a clown called... Read the Plot