'Deadpool 2': Josh Brolin's Cable Transformation Looks So Uncomfortable
Josh Brolin should be ready to join Blue Man Group right after he's done as Cable in "Deadpool 2."
The guy who plays Thanos in the Marvel Cinematic Universe was recently revealed to be joining Ryan Reynolds's "Deadpool" franchise for the sequel (and beyond). Cable is a Marvel character in the "X-Men" universe, and apparently it's going to take a lot of work to get Brolin ready for the role.
The actor shared a couple of photos of his face mold process, tagging "Deadpool" makeup artist Bill Corso:
Yikes. Gotta love the casual people in the background, not even paying attention as this superhero is painstakingly created -- without the actor able to breathe or eat "more effin cookies." Pain don't hurt! Besides, Brolin is used to this bizarre process from his prep to play Thanos.
Here's a look at Cable/Nathan Summers, from Marvel.com: When The Hollywood Reporter announced Brolin as the surprise pick as Cable (considering his current major-ish role in the MCU), they said his deal was for four films.
"Deadpool 2" is expected to arrive, with much NSFW-fanfare, in 2018. Production was looking at a June 2017 start in Vancouver.
Want more stuff like this? Like us on Facebook.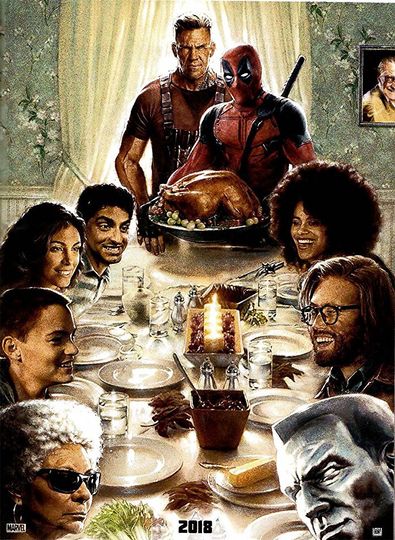 "Prepare for the Second Coming."
Wisecracking mercenary Deadpool battles the evil and powerful Cable and other bad guys to save a boy's life. Read the Plot