Dwayne Johnson's Maui Tries Hard to Impress in 'Moana' Teaser Trailer
What's a demigod gotta do to impress the tough crowd of a young girl and her pig pal? How about magically transform into a pueo? That was pretty cool!
On June 12, Disney shared the official teaser trailer for "Moana," which comes out this Thanksgiving. It's very much a teaser in that it mostly focuses on Maui (voiced by Dwayne Johnson) telling his own story to the unimpressed Moana (voice of Auli'i Cravalho) and a pig. But there are flashes of the adventure ahead -- including Maui's cool transformation into that Hawaiian owl -- and we get a taste of the chill-but-catchy music, with songs from Lin-Manuel Miranda, Opetaia Foa'i, and Mark Mancina.
Watch the teaser:
Maui seems like a lot of fun, but hopefully the next teaser focuses more on the title character.
Here's the official Disney synopsis:
"Three thousand years ago, the greatest sailors in the world voyaged across the vast Pacific, discovering the many islands of Oceania. But then, for a millennium, their voyages stopped – and no one knows why.

From Walt Disney Animation Studios comes 'Moana,' a sweeping, CG-animated feature film about an adventurous teenager who sails out on a daring mission to save her people. During her journey, Moana (voice of Auli'i Cravalho) meets the once-mighty demigod Maui (voice of Dwayne Johnson), who guides her in her quest to become a master wayfinder. Together, they sail across the open ocean on an action-packed voyage, encountering enormous monsters and impossible odds, and along the way, Moana fulfills the ancient quest of her ancestors and discovers the one thing she's always sought: her own identity."
"Moana," directed by Ron Clements and John Musker ("The Little Mermaid" "Aladdin," "The Princess & the Frog") will be released into U.S. theaters on November 23, 2016.
Want more stuff like this? Like us on Facebook.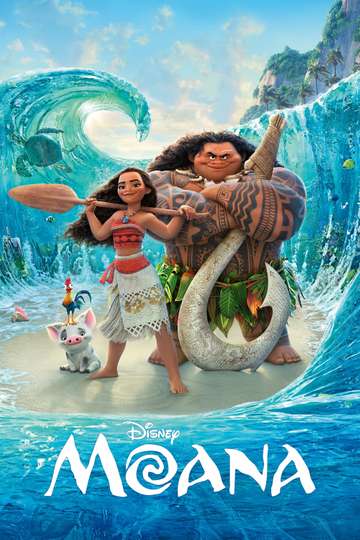 "The ocean is calling."
1 hr 47 min
Nov 14th, 2016
Showtimes & Tickets
In Ancient Polynesia, when a terrible curse incurred by Maui reaches an impetuous Chieftain's daughter's island, she answers the Ocean's call to seek out the demigod... Read the Plot