Ellen Readies Dakota Johnson for 'Fifty Shades' Sequel With Naughty Props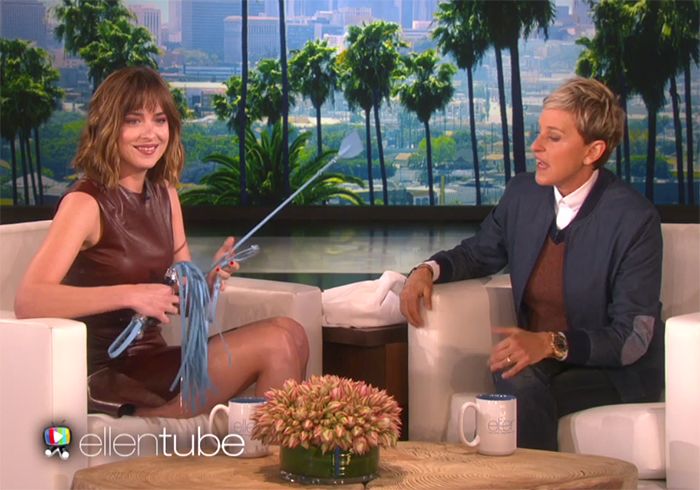 Forget about Grey, it was more like Fifty Shadesofblushing for Dakota Johnson.
The "Fifty Shades of Grey" actress couldn't help but to nervously giggle when Ellen DeGeneres gifted her with a round of raunchy toys when she appeared on the comedienne's talk show to promote an entirely different film, the gangster biopic "Black Mass."
Though she revealed that filming for "Fifty Shades Darker" begins "sometime in the New Year," DeGeneres insisted that she be prepared well in advance.
"I want to give you some props," the host said before brandishing a naughty sex toy, but she failed to think of its name. "This is a flogger," Johnson explained to her. Of course, as the star of the hit S&M film, Johnson should now be an expert when it comes to intimate novelties.
"And this is, y'know," DeGeneres said, handing over a whip as Johnson nodded affirmatively. "And then we have the 'Ellen' blue handcuffs," DeGeneres continued, showcasing her logo on yet another bedroom plaything. "These are beautiful," an impressed Johnson remarked. The props were all light blue with black trim and featured sparkling rhinestones.
DeGeneres concluded the gifts with a blanket with the words emblazoned across the center, 'Ellen's got you covered,' explaining, "If you're in (a film) and you have hardly anything on and they yell 'cut,' we have that (blanket) and they'll just wrap you in it."
Johnson catapulted to fame after her sexy flick "Fifty Shades of Grey" proved to be a hit with fans of the E.L. James book series when it debuted over Valentine's Day weekend. The erotic drama follows Johnson as a naïve college student's romance with a hunky sadist.
Understandably, Johnson's mother, Melanie Griffith, publicly said last year that she had no plans to see her daughter in the romp fest.
Still, DeGeneres pried to see if her famous mother and father, actor Don Johnson, ended up watching the movie anyway.
"Has your dad seen it? Has your mom seen it?" she quizzed the brunette, who looked relived to say they had not. "Has your grandmother seen it?" DeGeneres continued, "Yes!" Johnson joked. "Tippi saw it?" referring to Johnson's maternal grandmother, "The Birds" actress Tippi Hendren.
While she admitted that her grandmother has not watched the film, she said her entire family would be proud of her performance opposite Johnny Depp in "Black Mass."
She stars as gangster turned FBI informant Whitey Bulger's (Depp) girlfriend in the drama, which opens Friday.
Click here to watch the interview.