5 Reasons the 'Fast and Furious' Franchise Might Be Running Out of Gas
This weekend, there was no question which movie would top the box office chart.
"The Fate of the Furious" belongs to a franchise so feared that every other potential wide release gave it a wide berth. Even counter-programming cartoon "Spark: A Space Tail," aiming for kids too young for the "F&F" demographic, scaled back its wide-release plans and opened on just 365 screens. With the biggest April release ever (in 4,310 theaters), "Fate" was poised for an easy victory this weekend and a domestic debut between $100-$110 million.
And yet, "Fate" still failed to live up to expectations. Those expectations were already scaled back from the $147 million premiere of "Furious 7" two years ago, but even so, analysts figured this installment was good for at least $110 to $120 million in its first three days.
Instead, the movie barely squeaked past $100 million -- by just $182,000, according to studio estimates. Given that the last few "Fast and Furious" movies have earned back about 2.4 times their opening-weekend grosses over the course of their domestic runs, that means we're looking at a total of about $240 million for "Fate" -- which means that the movie wouldn't even make back its reported $250 million budget in North America. (Thankfully, it's global-haul will help put it in the black.)
Why didn't the pedal hit the metal as hard this time? Here are five potential reasons.
1. Audiences Might Be Aging Out of This Franchise It's worth remembering that "Fate" is the eighth movie in a 16-year-old franchise, with a 49-year-old leading man (Vin Diesel). At this point, declining debuts ought to be the rule, not the exception. This franchise has primed us to expect otherwise; until now, each of the last four sequels has opened bigger than the one before it.
With "Fate," the franchise is finally showing its age. Sure, a $47 million plunge from the previous premiere looks alarming, but that one-third drop, at this stage, is actually pretty normal.
2. No Paul Walker Sad to say, but "Furious 7" owed part of its success to viewers wondering how the franchise would handle the 2013 death of mainstay Walker. Not only did he perish in a life-imitates-art car crash, but he also left only some of his scenes completed, and the film had to be delayed and reworked to accommodate his demise. That off-screen tragedy spiked interest even among non-fans, and that spike drove the franchise to its first opening above $100 million.
Now that interest in the franchise has returned to normal levels, the fact that "Fate" still managed to score what is only the franchise's second $100 million debut looks a little more impressive.
3. Easter Weekend "Furious 7" and "Fate" both opened on Easter weekend, which has become a big moviegoing session in recent years. But Easter fell unusually late this year, two weekends later than in 2015, when "Furious 7" earned its haul, and three weeks later than last year, when "Batman v Superman: Dawn of Justice" debuted to the tune of $166 million. So, "Fate" fell further outside peak spring break time, meaning fewer high school and college students would have a free weekend.
4. The Reviews Weren't Great
For the most part, the "F&F" franchise has been critic-proof. Even so, the reviews for the sequels have improved along with their grosses. "Fate," however, has scored the weakest reviews of the last four films, just 64 percent "Fresh" at Rotten Tomatoes. Paying audiences disagree, giving the film a solid "A" CinemaScore.
Still, for a franchise increasingly dependent on older viewers -- 50 percent of "Fate" filmgoers were over 25 -- reviews matter at least a little. If nothing else, they suggest that the franchise is slowing down creatively, and some older potential moviegoers who still care what critics think may have heeded the warning and stayed home.
5. International Box Office Is King The real reason distributor Universal is not disappointed with "Fate"'s $100 million domestic opening is that it has earned more than four times that much everywhere else.
In fact, the movie's estimated $432.3 million earned abroad this weekend marks the biggest overseas premiere ever, and its total $532.5 million gross marks the largest global opening of all time. Of that global opening, a full $190 million came from China, giving "Fate" the record for the top-grossing premiere in that country for a Hollywood import. This weekend's results bring the franchise's total earnings to $4.4 billion, more than any other franchise in Universal's history.
Even if "Fate" performs overseas as it's doing here and ultimately earns just two-thirds of what "Furious 7" did, it'll still make $1 billion. The fact that its domestic gross looks puny by comparison won't stop the studio from going ahead with its plans to make at least two more sequels.
And that's the real lesson here. Like so many other 2017 movies, from Diesel's own "xXx: Return of Xander Cage" to "Ghost in the Shell," "Fate of the Furious" was designed for foreign audiences, not American viewers. Any money it makes here is gravy.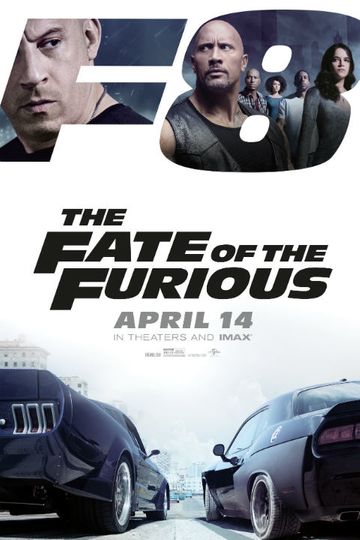 "Family no more."
2 hr 16 min
Apr 14th, 2017
When a mysterious woman seduces Dom into the world of crime and a betrayal of those closest to him, the crew face trials that will test them as never before. Read the Plot