Female Filmmakers in Focus: Emma Seligman's 'Shiva Baby' & Carly Stone's 'The New Romantic'
Welcome to Female Filmmakers in Focus, where you will find a recommendation for films directed by women to seek out each week. This week features a couple of films about sugar babies: Emma Seligman's coming-of-age comedy 'Shiva Baby' and Carly Stone's romantic comedy 'The New Romantic'. Plus an interview with writer-director Emma Seligman.
What is a sugar baby? Well, essentially a younger, financially in need person enters a dating-like relationship with an older, more financially well-off person for money, gifts, trips, and other material benefits in exchange for their companionship. With the rise of student loan debt, sugaring is a growing phenomenon among students to pay for secondary education.
'Shiva Baby' (2020) - Written and Directed by Emma Seligman
Emma Seligman began her work in film as a critic while she was a teenager. She then attended films school at New York University Tisch School of the Arts. Her thesis film, the short version of 'Shiva Baby,' was a selection of the 2018 SXSW film festival. She developed the short into a feature film, which debuted at the 2020 Toronto International Film Festival. It also won Best Screenplay at Outfest. She is currently shopping around a queen teen comedy with Rachel Sennott attached, and developing a television show about sugar babies.
'Shiva Baby' follows recent college graduate Danielle (Rachel Sennott), a Jewish bisexual who made up her own degree and hasn't yet figured out what she plans to do with her life. While sitting shiva for a friend of her parents (Fred Melamed and Polly Draper), she runs into her sugar daddy Max (Danny Deferrari), his wife Kim (Dianna Agron), and her ex-high school sweetheart Maya (Molly Gordon). This screwball comedy plot is played like a horror film, highlighting Danielle's mounting claustrophobia. This tension is aided by Ariel Marx's plucky violin score and cinematographer Maria Rusche's masterful close-ups. It's ramped up further by Seligman's acute observation of interpersonal relationships as revealed through body language, subtle glances, and the subtext that drips from the character's innocuous dialogue. 'Shiva Baby' distills the anxiety of the post-college life crisis into one delightfully bad day.
'Shiva Baby' is out now on VOD.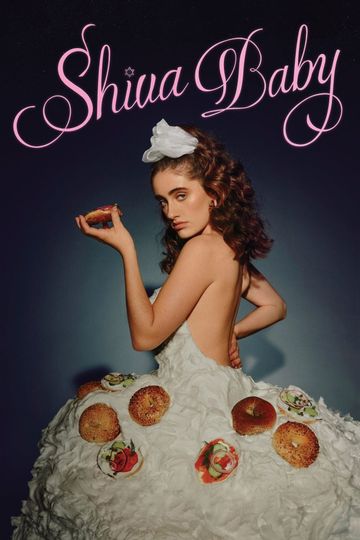 Read on for an interview with 'Shiva Baby' writer/director Emma Seligman
Moviefone: How did you decide to set a story around sugaring?
Emma Seligman: I thought about the two polar opposite ends of my life being represented. One of them being a child at a family event and the other would be the time I tried sugaring. College is sort of permeated now with hookup culture and not having control, wanting someone to commit who won't, and feeling really invalidated. No one in my generation knows how to communicate. No one wants to be vulnerable; they want to keep the power and be the one who cares less. I think that a sugar relationship was a good way to give a clear picture of those sexual dynamics over one day.
MF: Can you discuss her casting of Rachel Sennott as Danielle?
ES: She was in a bunch of my friends' thesis films and I watched some sketches she wrote and acted in. I thought she was really funny. She looked like someone really familiar to me, like someone I would run into at a family event. She was a huge reason why the feature happened in terms of her motivation and commitment to making it happen.
MF: How did you come to cast Fred Melamed and Polly Draper?
ES: I offered the role to Fred because of 'A Serious Man' and everything else, and he said yes. My mom was always like "Polly Draper must play me!," and I was like "It's not you, but sure." Polly and Fred were friends from Yale School of Drama, which brought this whole other chemistry and relationship to the parents. Polly improvises a lot; Fred doesn't improvise. It worked between the two of them because they felt so comfortable with each other.
MF: Can you talk a bit about working with Dianna Agron?
ES: She suggested a couple of things, like when they're questioning if she's Jewish or not, how Jewish she is, or her dad being Jewish. Diana as a Jewish person has often had her Jewishness questioned because of her looks and because her mom converted.

MF: Ariel Marx's score sets a distinct horror movie vibe. How did you two arrive at that?
ES: I wanted to make sure that the score allowed the audience to understand that we should just be with Danielle and her anxiety. Score can lead into drama and the emotions, or it can lean into comedy or romance; I wanted it to lean into just her anxiety. I kept saying the word anxiety, so Ariel sent me a library of violin sounds. I picked my favorite, and she told me that everything I chose put together was a horror score.
MF: Were there visual references you discussed or specific lenses used to achieve Maria Rusche's claustrophobic cinematography?
ES: I showed her movies that I thought were really claustrophobic and anxiety inducing like 'Krisha,' 'A Woman Under The Influence,' 'Opening Night,' and 'Black Swan.' She suggested we should shoot on anamorphic lenses. Basically they curve the frame in a way that sometimes makes it feel like a fun house it's so clear it's distorted. The ones that she chose just delicately distort the frame. They make it look like the walls are caving in just slightly, while still being able to see everything in the frame and have everything in focus. Those made a significant difference in achieving that look.
MF: What do you hope audiences take away from the film?
ES: Beyond being entertained in a really dark time, I hope young women feel seen in the contrasting and conflicting pressure put on them. I hope other people understand that it feels like a horror movie sometimes to be a young woman.
---
'The New Romantic' (2018) - Written and Directed by Carly Stone
Inspired by the work of Nora Ephron, Sofia Coppola, and Joey Soloway (Transparent), writer-director Carly Stone attended the American Film Institute. She worked as a writer on the Canadian sitcom 'Kim's Convenience' before making her directorial debut with 'The New Romantic'. Shot in just 18 days, the film had its world premiere at the 2018 South by Southwest film festival where she was awarded a Special Jury Recognition for First Feature. Stone is currently in pre-production on an adaptation of Cea Sunrise Person's memoir 'North of Normal' with Margaret Qualley attached to star.
In the 'The New Romantic' college student Blake (an irrepressible Jessica Barden) writes a column on dating for the school newspaper called The Hopeless Romantic. That is until it's cancelled for being "too boring." Out one night with best friend Nikki (Hayley Law), Blake accidentally swaps her ID with a fellow student Morgan (Camilla Mendes), who she learns is a sugar baby. Jealous of fellow journalist Jacob (Brett Dier), who has entered a contest for gonzo journalism, Blake interviews Morgan and then decides to try sugaring herself. While these new experiences invigorate her column, shenanigans ensue as Blake balances life with her sugar daddy, a wealthy older professor named Ian (Timm Sharp), and her newfound feelings for Jacob. The film's trio of women each give game performances showing that there are many facets to the female college experience. Mike McLaughlin's cinematography, a contrast of brightly lit days and neon-filled nights, fits the film perfectly into Gen Z instagram aesthetics. Writer-director Carly Stone uses rom-com tropes to explore the complexities of journalistic ethics, contemporary sexual mores, and the age-old pursuit of accepting one's true self.
'The New Romantic' is available on Netflix.